Are you looking to get into adult webcam modeling and not sure where to start? Our article Become a Chaturbate Model Step by Step Guide is just for you.
About Chaturbate
As the name suggests, Chaturbate is an adult website that comprises two important things, 'Masturbation' and 'Chatting'. It is the world's largest adult cam site, with a significant edge over its competition.
Chaturbate is an adult webcam platform providing live broadcasts by amateur models, couples, and individuals alike displaying various sexual activities such as the use of interactive sex toys.
Launched in 2011, Chaturbate, over time has become an extremely popular webcam site with its members and broadcasters.
Since 2021 it is estimated that the site is accessed by around 365 million visitors each month. Furthermore, with over half a million followers on Twitter, it is the most followed live sex cam site online.
With this in mind, building a career as a cam model through Chaturbate is an excellent choice, as it keeps growing on all levels making it an excellent choice for anyone willing to watch or share content.
The website is divided into various model categories and show types, namely;
Female Cams
Male Cams
Couple Cams
Transgender Cams
Private Shows
Spy Shows
Reasons Why Chaturbate Is The Best Choice of Cam Site for You
It Is Easy To Set Up: From completing the registration form and setting up your webcam to inputting payout data, the steps involved in creating a profile are extremely easy.
Work At Your Own Pace: You get to set your own rules, create a work schedule, and work from the convenience of your home.
It's A Great Platform To Be Expressive: For couples, and models who wish to express their sexuality Chaturbate is an excellent choice. You also get to be a part of the Chaturbate cam community and connect to thousands of members, broadcasters, and viewers.
A Perfect Site To Be A Successful Cam Model: Cam entertainers can bring in cash by being tipped with tokens. Each Chaturbate token is valued at $0.05 to a model. This site makes it easier for both entertainers and viewers by allowing the viewers to tip their favorite entertainers in exchange for performance and with this, you get to build a loyal fan base. See How to be successful on chaturbate
Create A Custom Level of Protection: On Chaturbate you get to control your chatroom, live feeds, and profile. Blocking abusive visitors or regions you don't want to cam in, can help relieve additional pressure and keep you safe online.
If you want to be a cam model on Chaturbate follow this step-by-step guide, where you would be directed through the entire process.
Step 1: Fill Out The Registration Form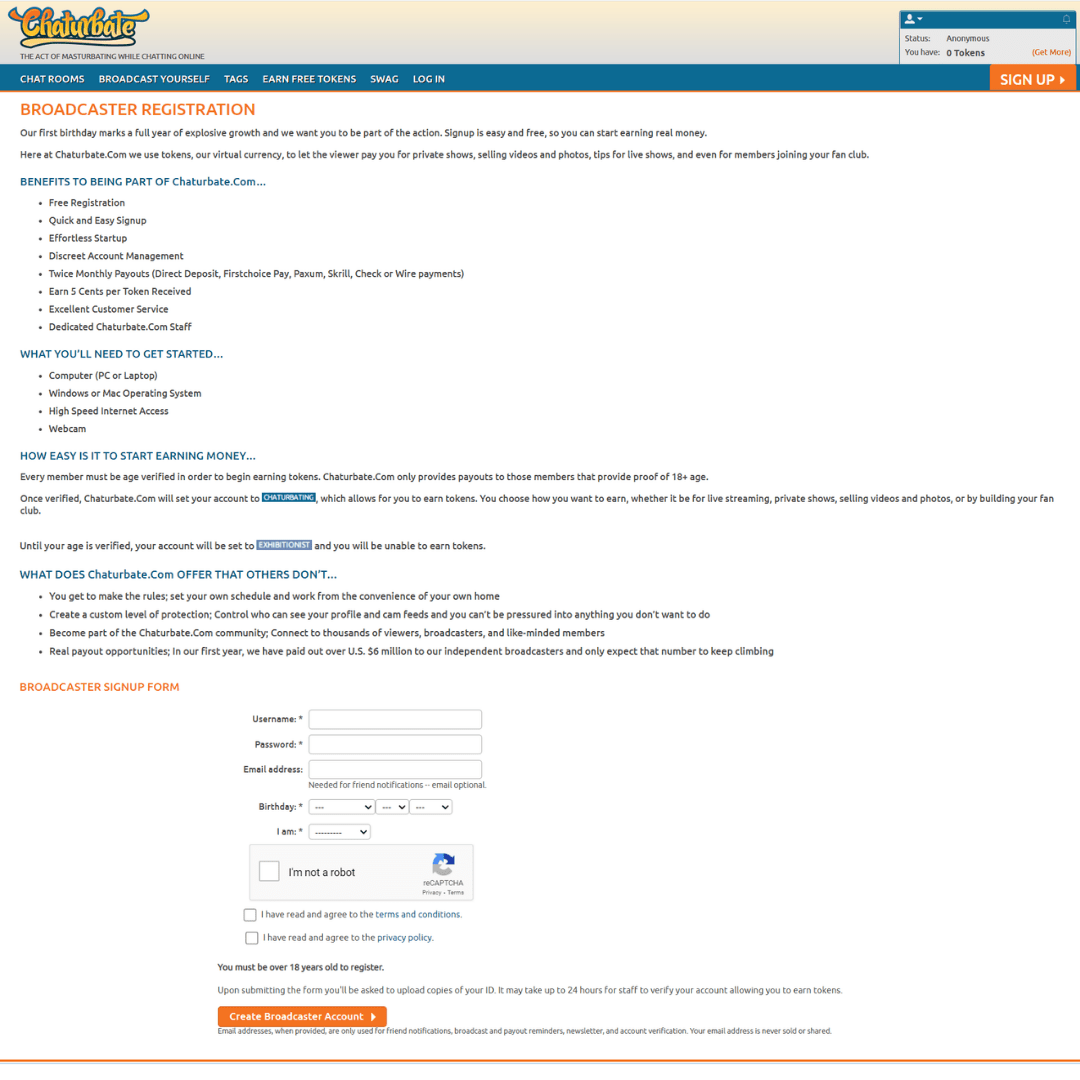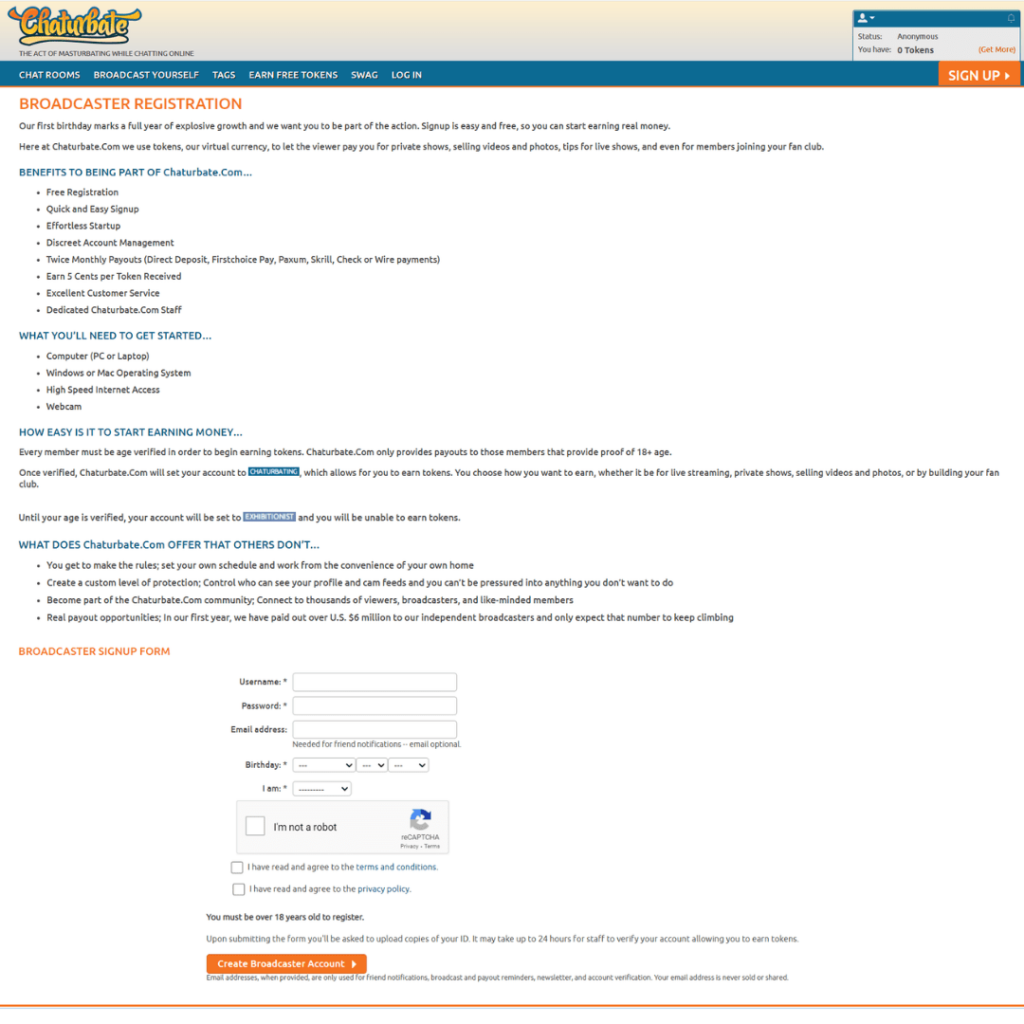 To join Chaturbate as a webcam model you must complete the registration and verification process.
Click the below link to start filling out the Broadcaster Sign Up form:
https://chaturbate.com/accounts/broadcaster_register/
Input your preferred username. Think carefully about it as this will be your new webcam model name. It's up to you what name you choose, but we recommend keeping it exciting, memorable, and original. Perhaps something connected to your character, or the type of shows you wish to perform. Be mindful of revealing any personally identifiable information (PII), so try not to use your real name.
It is also a good idea to keep your chosen username the same across social media platforms (if you are looking to promote there), additionally, this will help with keeping your personal identity private from your camming one.
For more information about keeping safe online see: Online Privacy Tips for Webcam Models
Complete all of the remaining fields. Don't forget to read and accept the Terms and Conditions, then click 'Create Broadcaster Account'
Step 2: Complete Chaturbate Independent Broadcaster Verification


To be able to receive tokens from members who visit your Chaturbate page, you will need to complete the following:
Step 2 a) Agree to Independent Broadcaster Agreement
Enter your full name, real email address (to be able to receive notifications from Chaturbate) and you date of birth. Then click 'Display/Update Agreement'.

Note: Make sure this information is accurate. Chaturbate will never share your personal details with any 3rd parties or Chaturbate users.
Review the Independent Broadcaster Agreement and if you are happy to proceed copy and paste your full name into the E-Signature field and click 'I Agree'.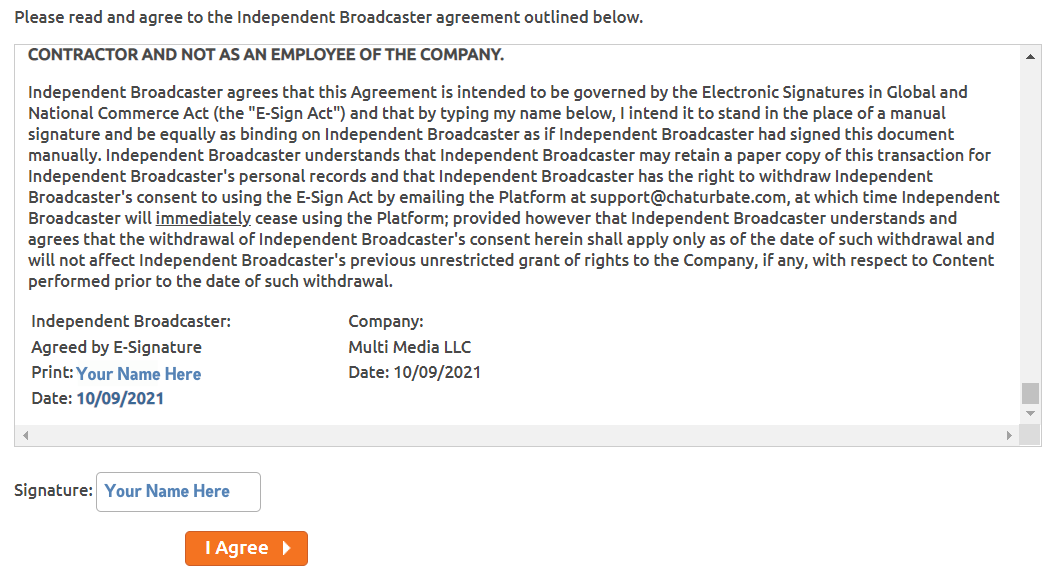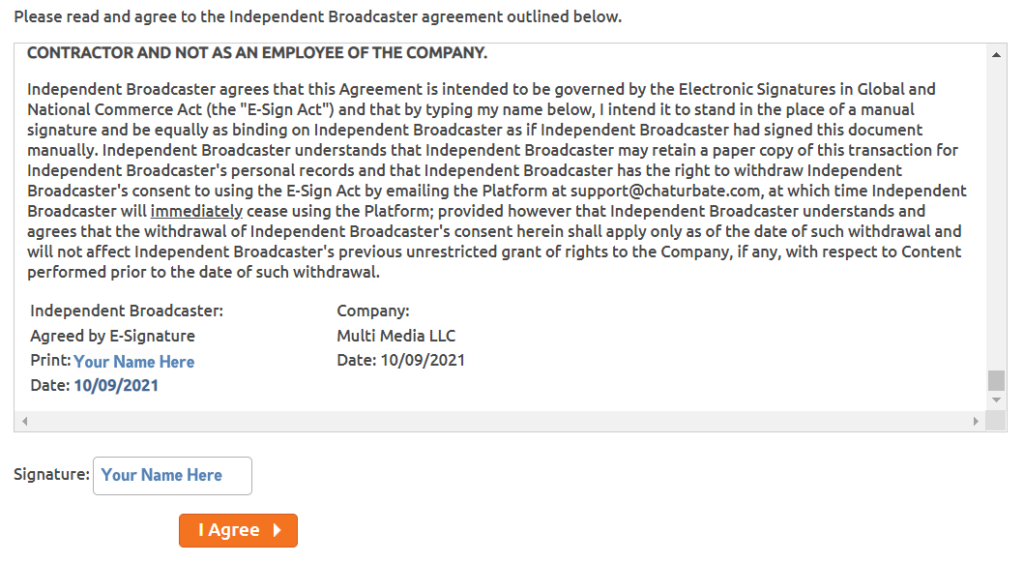 Step 2 b) Confirm Two Crucial Details "Your Age and Identity"
Firstly, to become a Chaturbate model, you must make sure you have the right ID to avoid any issues or delays in the Chaturbate Age Verification process.
It is vital that your identification is valid and that it has not expired. Hence, showing the issued and expiration date. It must also contain your date of birth, your legal name, ID number and show a clearly recognizable photo of you.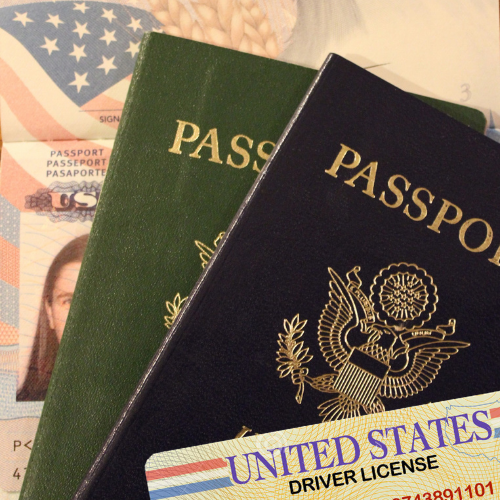 Accepted
Drivers License
Passports
Not Accepted
Permit or temporary IDs
Hand-written or drawn ids
Photoshop or photo/image manipulations
Birth certificates
Secondly, you will need to upload two photos. One is a clear image of your identity, taken from both sides and another one is of you holding your ID.
Note: If you are having difficulty displaying the two sides of your identity card in one image there are various online tools to help you accomplish this task. Making use of a picture collage is a great option too.
All these processes are for security purposes, and to eliminate users creating fraudulent Chaturbate model accounts. When taking a picture of you and your identity card it should be like you are taking a selfie while holding your identity card. The photo has to be a clear close-up of your face and ID, with all key text information in focus.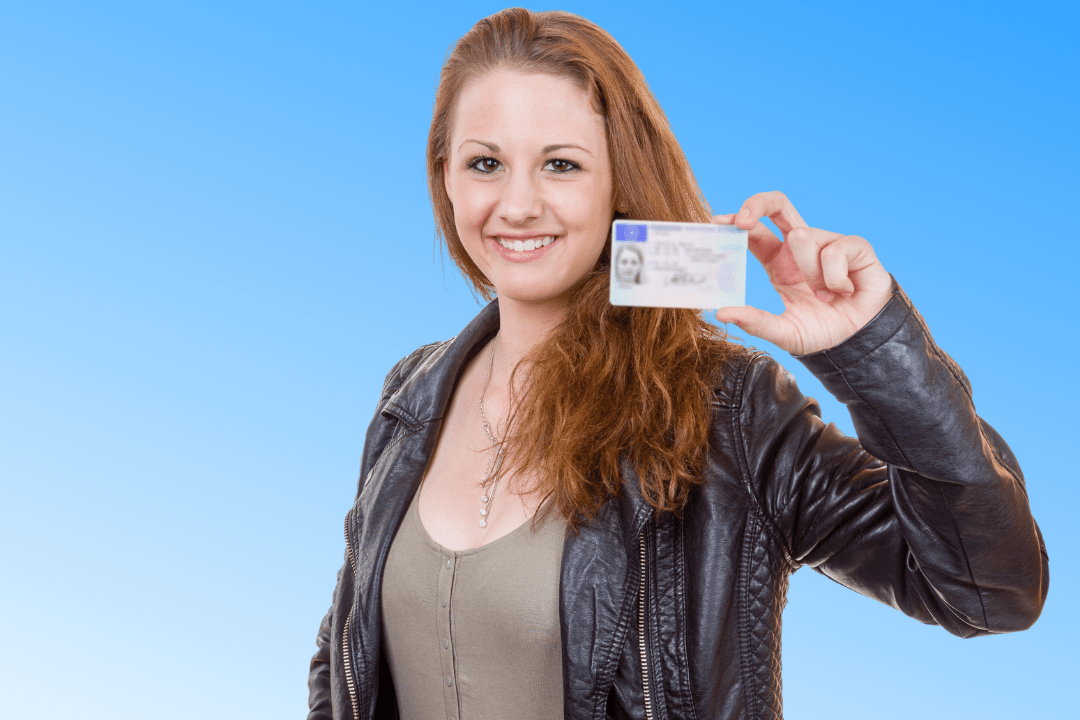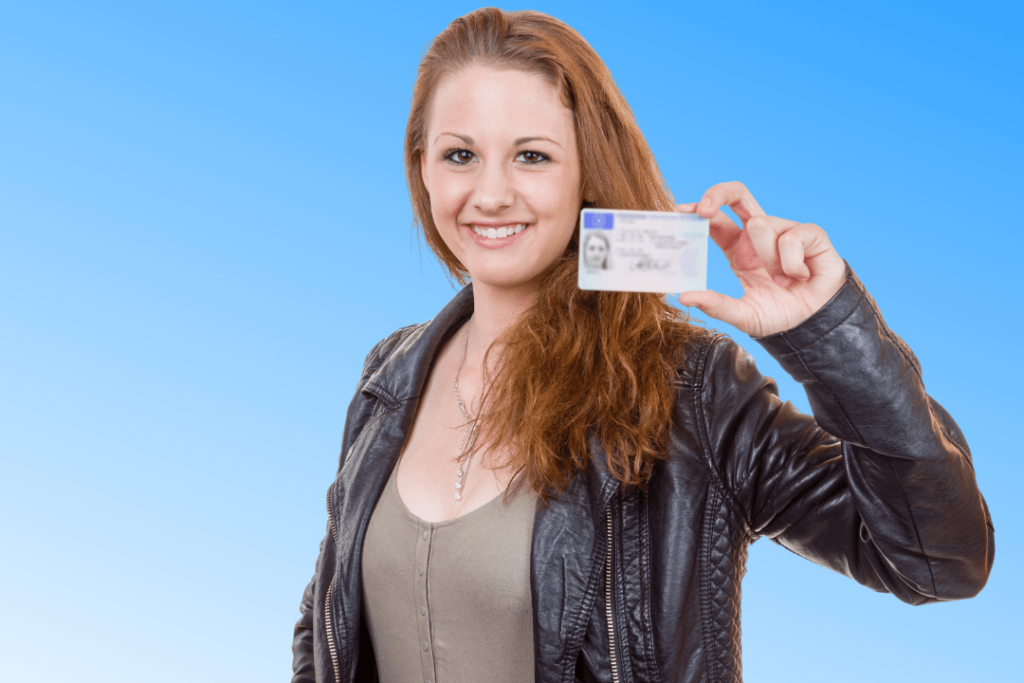 Note: To avoid rejection ensure that your identity card is visible alongside your face.
For more information about getting verified see: Chaturbate Age Verification
As soon as Chaturbate has verified your account, you will be able to start your first live cam show. This means you can now earn Chaturbate tokens!
However, before your first Chaturbate broadcast you'll need to confirm your chosen payout method and details so that you can get paid!
Step 3: Input Your Payout Data


Before broadcasting for the first time, your payout data should be updated. Click https://chaturbate.com/affiliates/payoutinfo/ to do this.
Chaturbate offers many payout methods: Paxum, CosmoPayment, ePayService, Skrill, Bitcoin, Check by Mail, Wire Transfer, or Direct Deposit (only if you are in the USA).
Take notice of the minimum amount required to be able to receive your payment. For many of the methods, this amount starts with a minimum of $50.00, before you can get paid.
Not reaching the minimum amount within a pay period, means that your balance will automatically roll over into the next pay period. This will continue to happen until you achieve the amount.
Note: Payment periods are from the (1st-15th) and (16th-31st) of each month. Payments are sent within 7 days of the period ending.
Step 4: Set Up Your Chatroom
Here, you simply need to compose your chat room with your details and requirements based on the tabs available.
My Bio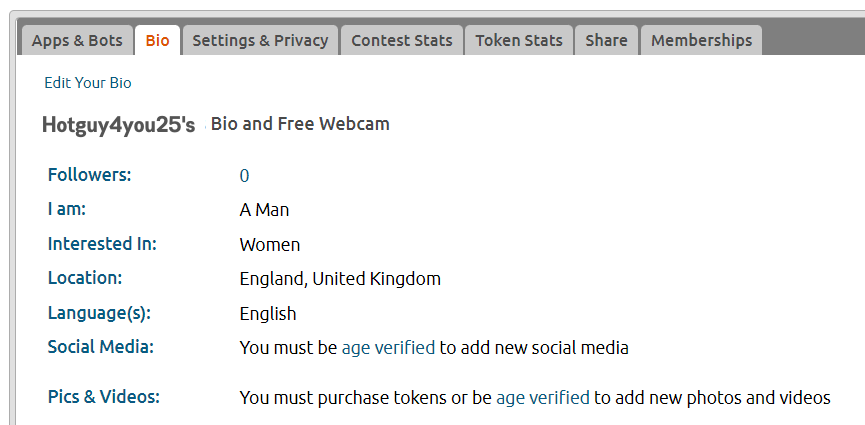 The 'My Bio' tab allows you to configure and update details related to your identity. Details like your name, where you are from, your sexual interests, and so on. It also includes an 'About Me' section where you can add more info about yourself. Write something engaging that entices visitors to stay on your page and keep watching your live show.
In addition, you can include your social media links. This is great for gaining more followers and building up your fan base. Furthermore, using social media is a great way to interact with your regulars and let them know through your posts, when you are going online, or have new content available.
This leads to another great feature of Chaturbate, the ability to upload Pics & Videos and charge tokens for them. A great way to increase your cam model income. You can set your price for each photo, video, or set.
On average, models charge between 150-300 tokens. However, the more popular you appear on-site, you may be able to charge a higher amount for your content.
Simultaneously, you can offer content for Free to your Chaturbate Fanclub members. By setting up and offering a Fanclub to your regulars, you can attract another monthly income by charging a subscription-free for your content.
Settings and Privacy
The 'Settings and Privacy' section allows you to change your password and email address. As well as, selecting the gender categories who will be able to see your webcam page.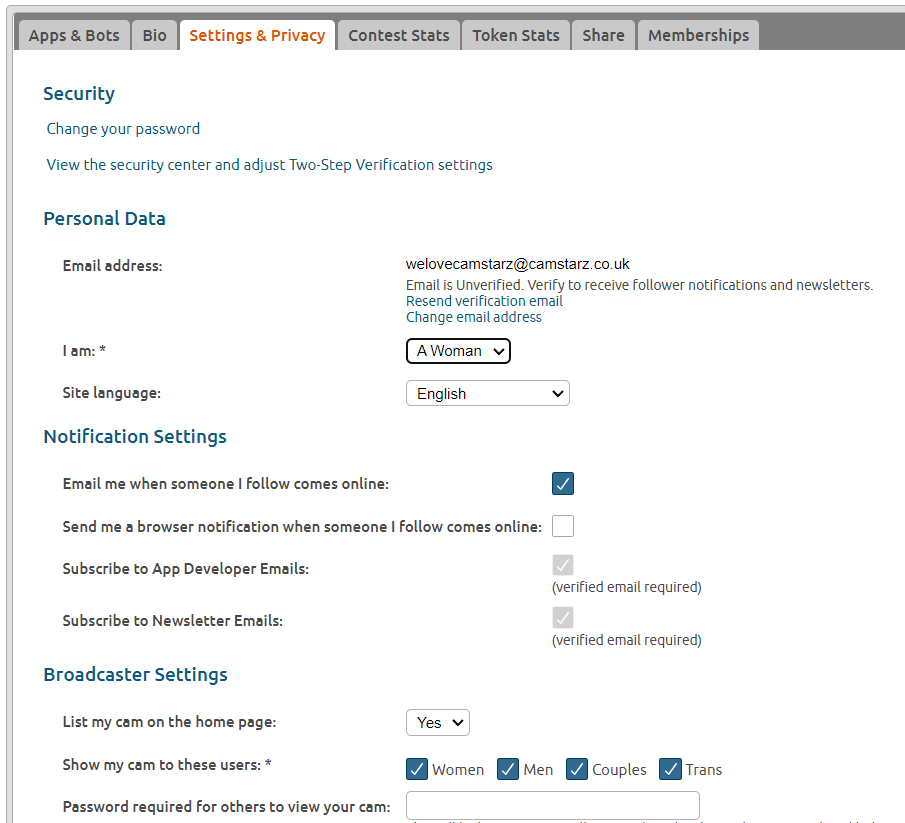 In this section, you can also block some Countries and Regions. You might choose to do this if there are any that you want to restrict from seeing your broadcast. For instance, your home region, if you are worried about friends or family seeing you.
Note: Try as much as possible not to block too many countries/regions, because you could limit the potential number of visitors to your page.
Lastly, from this tab, you can choose the number of tokens you want to charge per minute for your private shows on Chaturbate. You get to charge up to 90 tokens for each minute.
It's important to realize that going with a higher rate per minute may not be the best idea when starting out. You want to be able to attract as many tipping members as possible and turn them into your regular followers. However, you can update/change the rate whenever you need to.
Token Stats
The 'Token Stats' tab allows you to view the token balance you have made accrued over time, and to transfer your tokens to real currency through your selected payout option.
Note: You need to do this before the Payout Period time frame closes. There are two Payout Periods monthly (from 1st-15th and 16th-31st of each month).
Step 5: Set Up Your Webcam for Chaturbate
This ensures that you are ready for broadcasting. All you need to do is simply install webcam drivers and follow the setup instructions for your webcam. In case you require further help, contact your webcam manufacturer for assistance.
Alternatively, you can use the inbuilt webcam from your laptop, but make sure it has a high enough resolution. HD provides a smoother live stream.
There are a couple of broadcasting options. You can either use Open Broadcaster Software (OBS) or Chaturbate's in-browser broadcaster.
After installation, selecting your equipment in Chaturbate is next. Navigate to 'Broadcast Yourself' from the main Chaturbate menu. You will need to give access to your webcam. So permit this to reach the configuration menu.
Firstly, move to the 'Camera' menu. It allows you to select your chosen broadcasting device. From there click on the drop-down menu and select your webcam.
Secondly, the 'Resolution' menu allows you to change the quality in pixels to that of what your webcam device can handle. A lower resolution will result in a more pixelated picture for your viewers.
Thirdly, you can choose to select an external 'Microphone' or the in-build one on your laptop or computer.
Lastly, the 'Message/Goal' bar towards the top of the page allows you to add a short message to your fans, or add a 'Tip Goal' along with hashtags to attract more viewers.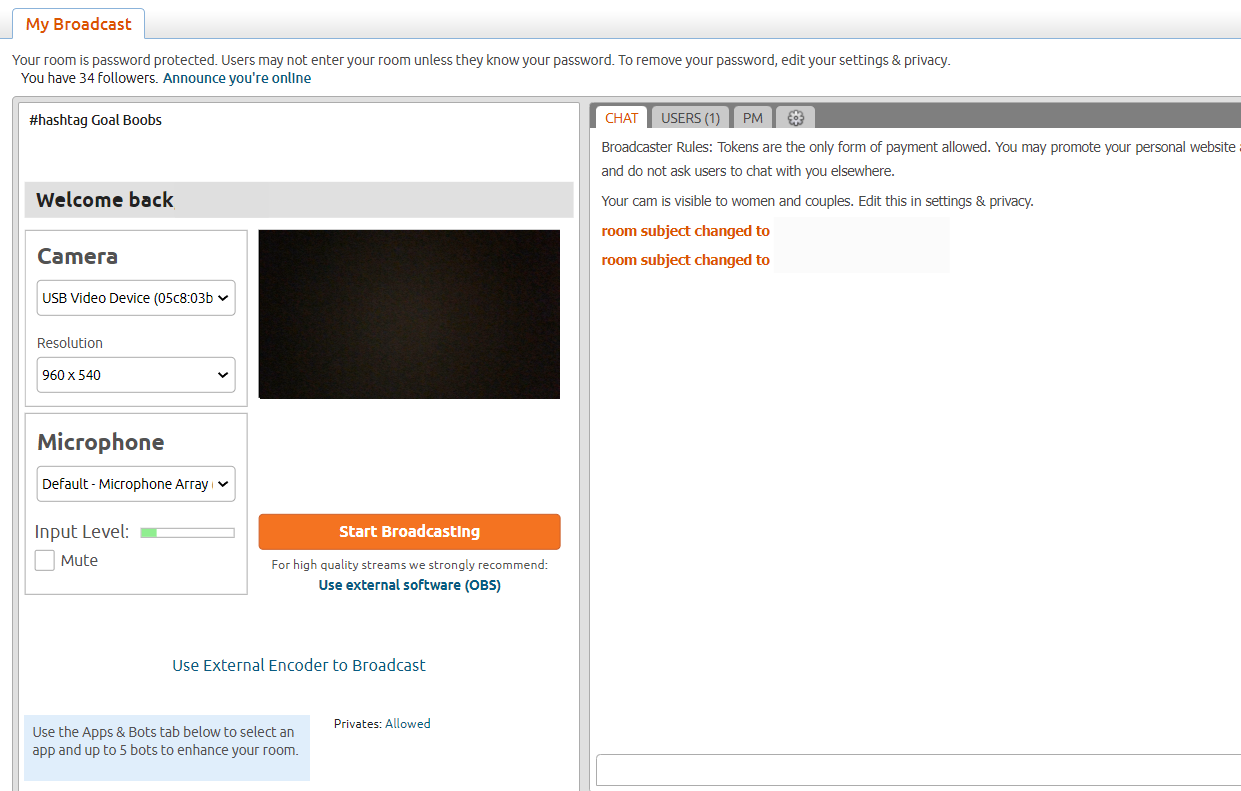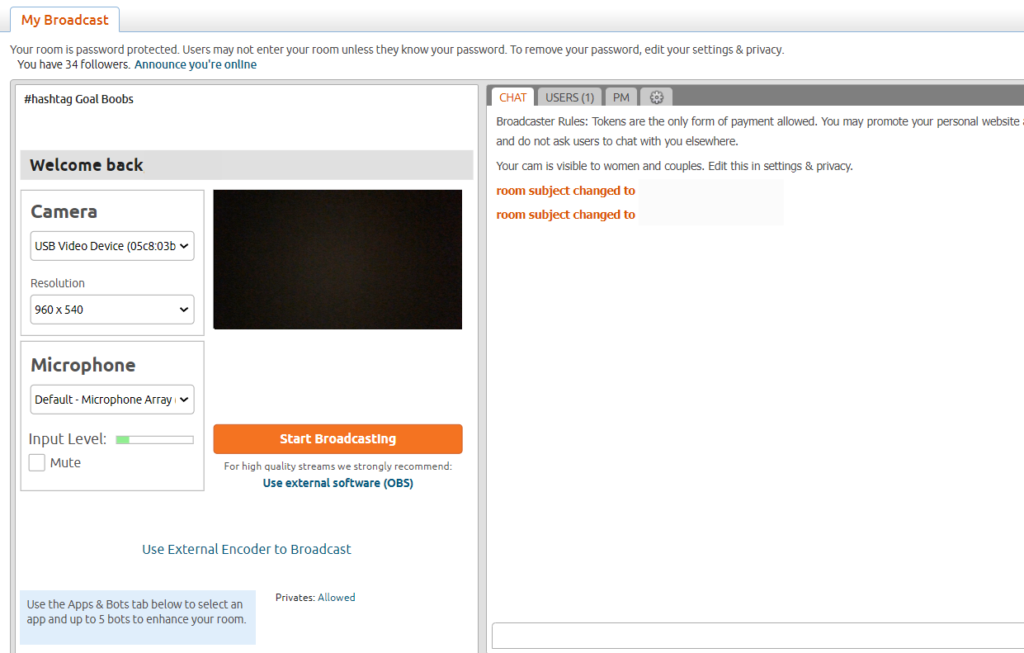 Note: For a Chaturbate model, a smooth transmission will be incredibly appreciated by your viewers. This quality is intensely dependent on the upload speed of your web connection.
When setting your picture quality, it is better to keep it as high as possible without dropping such a large number of frames per second. Attempt to keep your broadcasting speed around 30-60 fps.
To ensure a high-quality transmission and picture quality, run a couple of tests, and discover a reasonable resolution/picture quality combination.
Step 6: Set Up Your "Apps and Bots"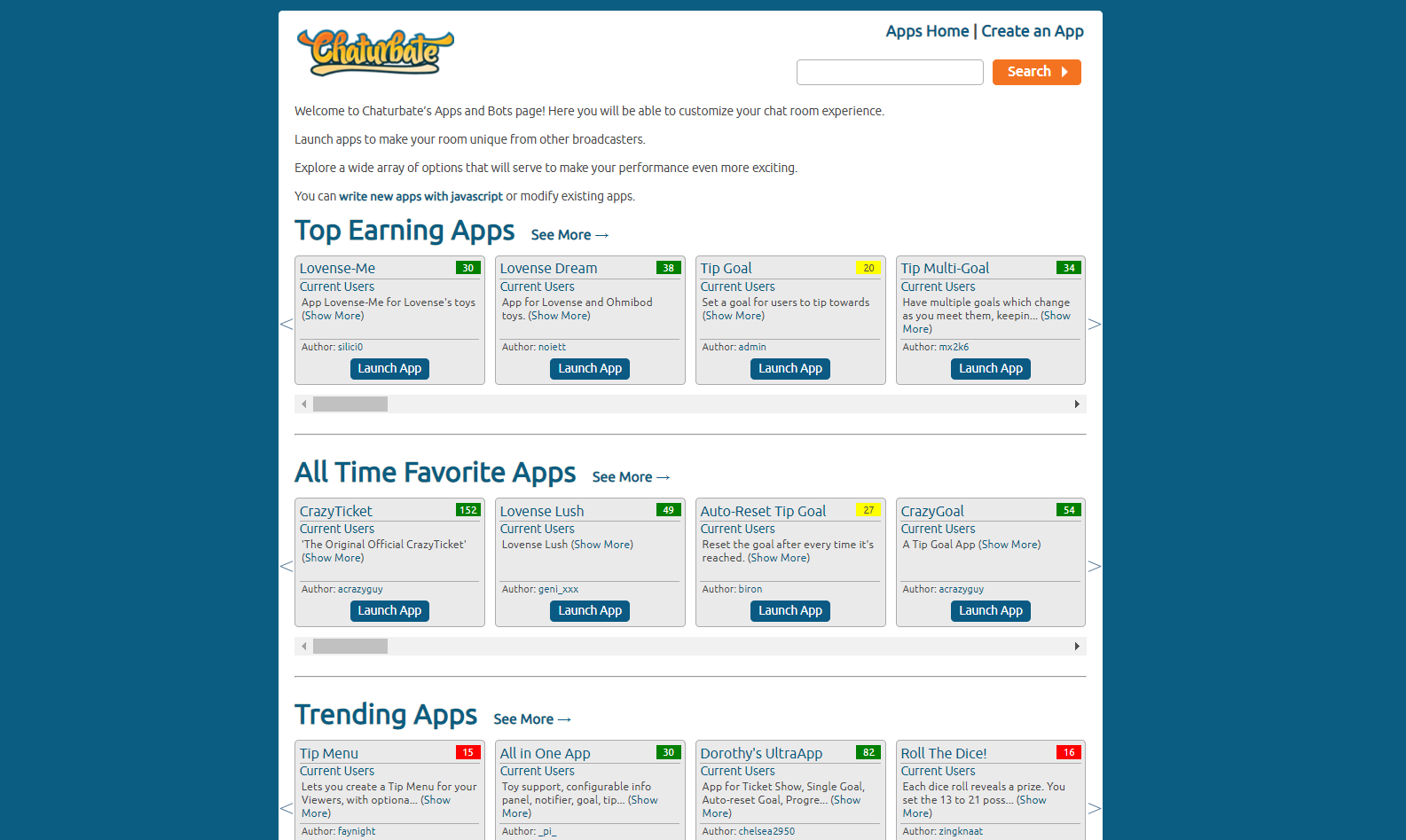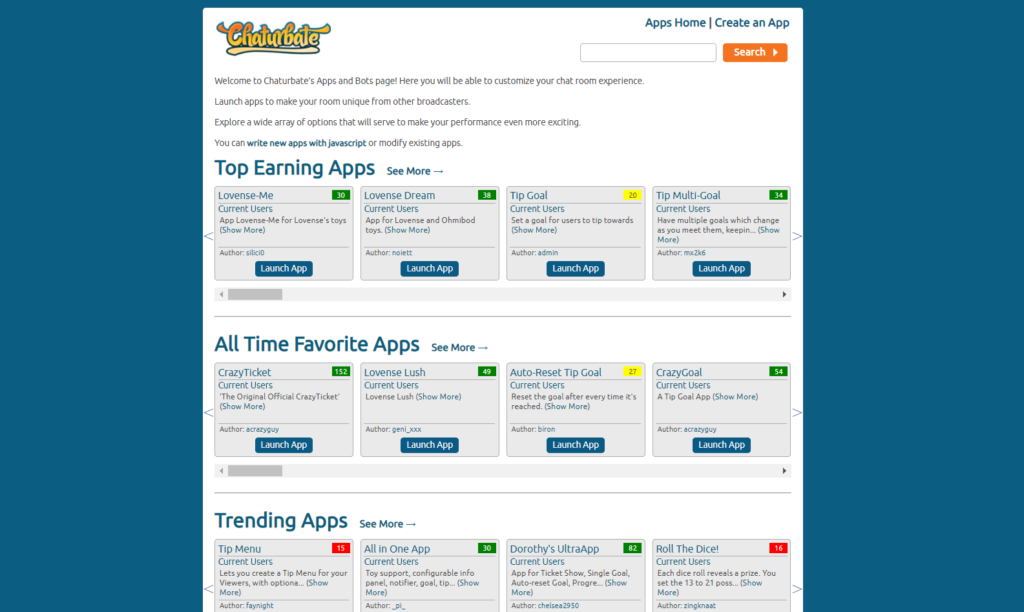 To increase your profits, you will need to arrange both your applications and bots. Click on the 'Apps and Bots' tab from your 'My Profile' section. You can pick one application and up to five bots.
Apps mini-programs that allow you to select the room's topic or theme. You can entice viewers with many exciting application options. Such as auto-setting tip objectives with the use of 'Tip Goal' or 'Multi Goal', to apps syncing with your interactive vibrating sex toy such as 'Lovense Me'
When getting started on Chaturbate it is recommended to check out the most popular apps and select the one that works best for you and your live stream. Each application has a set-up page where you are required to select from a number of fields and drop-down menus. These determine how it looks and works on your page.
It is not a priority to use an app, but it is recommended that you set aside some effort to do this, as it will only help encourage viewers and members to tip. Hence, increasing your earnings!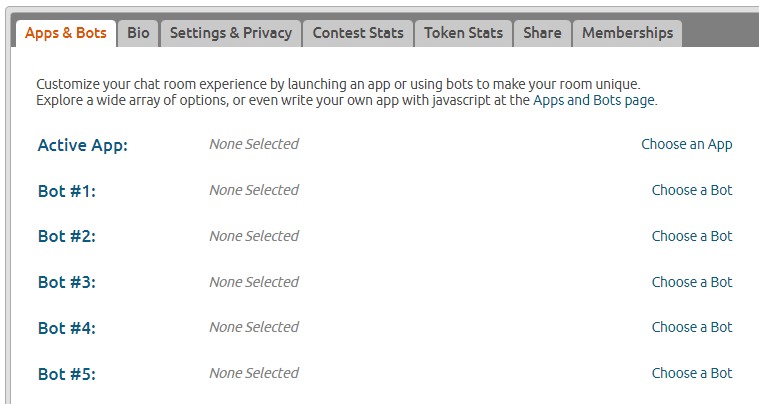 Bots are also mini-programs that help you with your broadcasts. These bots are usually utilized for things like appearance warnings to your viewers, thanking your tippers, auto-messages containing words determined by you, showing your tippers leader-board, and so on.
Bots are valuable to help keep control over your chatroom and help remove individuals you don't want in there.
Step 7: Select "Broadcast Yourself"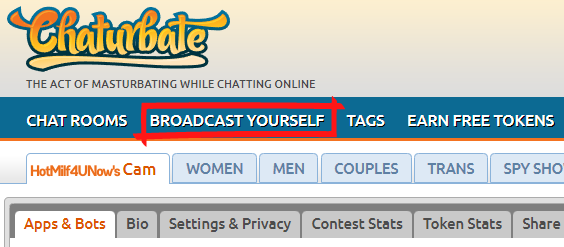 After you have successfully completed all the above steps, return to 'Broadcast Yourself'. This can be found on the main Chaturbate header menu. If you get a warning notification, read it, and ensure you conform to the site rules and regulations.
Finally, to start camming on Chaturbate, click the orange 'Start Broadcasting' button.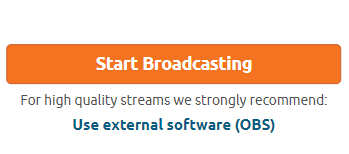 That is all you need to know on how to sign up for Chaturbate as a cam model. If you have properly followed these seven steps your career as a cam model on Chaturbate has just begun. We wish you a lot of SUCCESS!!!
---
Check out more from Chaturbate Careers:
Become A Webcam Model & Earn Money With Chaturbate
Become a Male Cam Model with Chaturbate
Essential Camming Equipment For Webcam Models
Getting Paid on Chaturbate: How Does Payment Work?