You've heard of Chaturbate, but you're not quite sure how to join or what to do once you're there. Whether you're looking to join as a viewer or as a broadcaster, these steps will help you feel more comfortable navigating the platform and get the most out of your time on it. When you feel ready, you can start with these simple steps to Join Chaturbate today!
What Is Chaturbate?
For those that don't know, Chaturbate is an adult live webcam platform with millions of users worldwide. It's the number one place to watch live sex cams for free. You can either browse the model profiles, chat with other members or go private for a 1-2-1 sex chat. Users can also broadcast themselves and make revenue from their shows by charging tokens to their viewers. It's one of the most popular live cam sites on the internet.
How To Join Chaturbate?
To get started, you'll have to first create a free Chaturbate account. As with most other sites, you'll be asked to input some basic information such as a username, password, date of birth, gender, and email address. If you do not want to provide your email you don't have to as it is totally optional. However, if you really want to experience all the features Chaturbate has to offer, it is better to add your email address so that your account can be verified.
If you are looking to become a Chaturbate model then initially you can join Chaturbate in the same way however, there are additional steps to take in the process. You will also have to complete the Broadcaster Registration as well as Independent Broadcaster Verification. In either instance, we will completely guide you through how you can signup for Chaturbate.
How Do I Create a Free Chaturbate Account?
Creating a free account on Chaturbate is easy and only takes a few minutes. So let's get you signed up!
Visit Chaturbate.com
Click the 'Sign Up' button located in the top right-hand corner.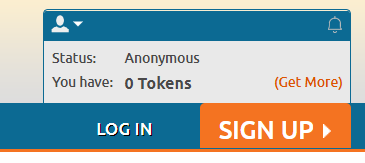 Input your information. Fill out your username, password, email address, date of birth, and gender.
Read and agree to the 'Terms and Conditions' and the 'Privacy Policy'.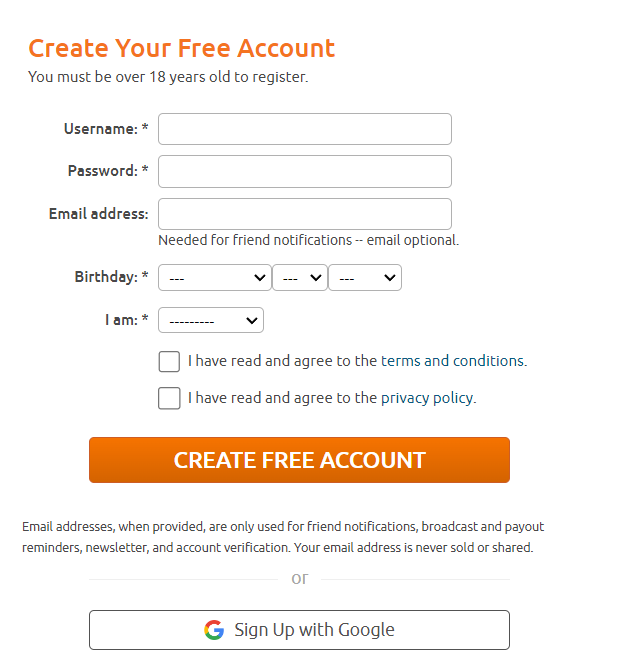 Click 'Create Free Account' to join Chaturbate.
Alternatively, if you have a Google account you can effortlessly sign up with one click!
Once you have an account, you can start watching live cam shows. To get the most out of Chaturbate, we recommend upgrading to a premium account. This will give you access to more features and benefits, such as being able to chat with performers and tipping them.
How To Become a Chaturbate Model?
To sign up as a broadcaster on Chaturbate, you'll need to create an account and verify your identity. To do this, you'll need to provide some personal information and proof of ID. Once you've created your account and it has been verified, you can start broadcasting!
Below are the steps you'll need to take to complete the registration and pass the Chaturbate verification.
Step 1: Complete The Registration Form
Firstly, you'll need to fill out the Broadcaster Signup Form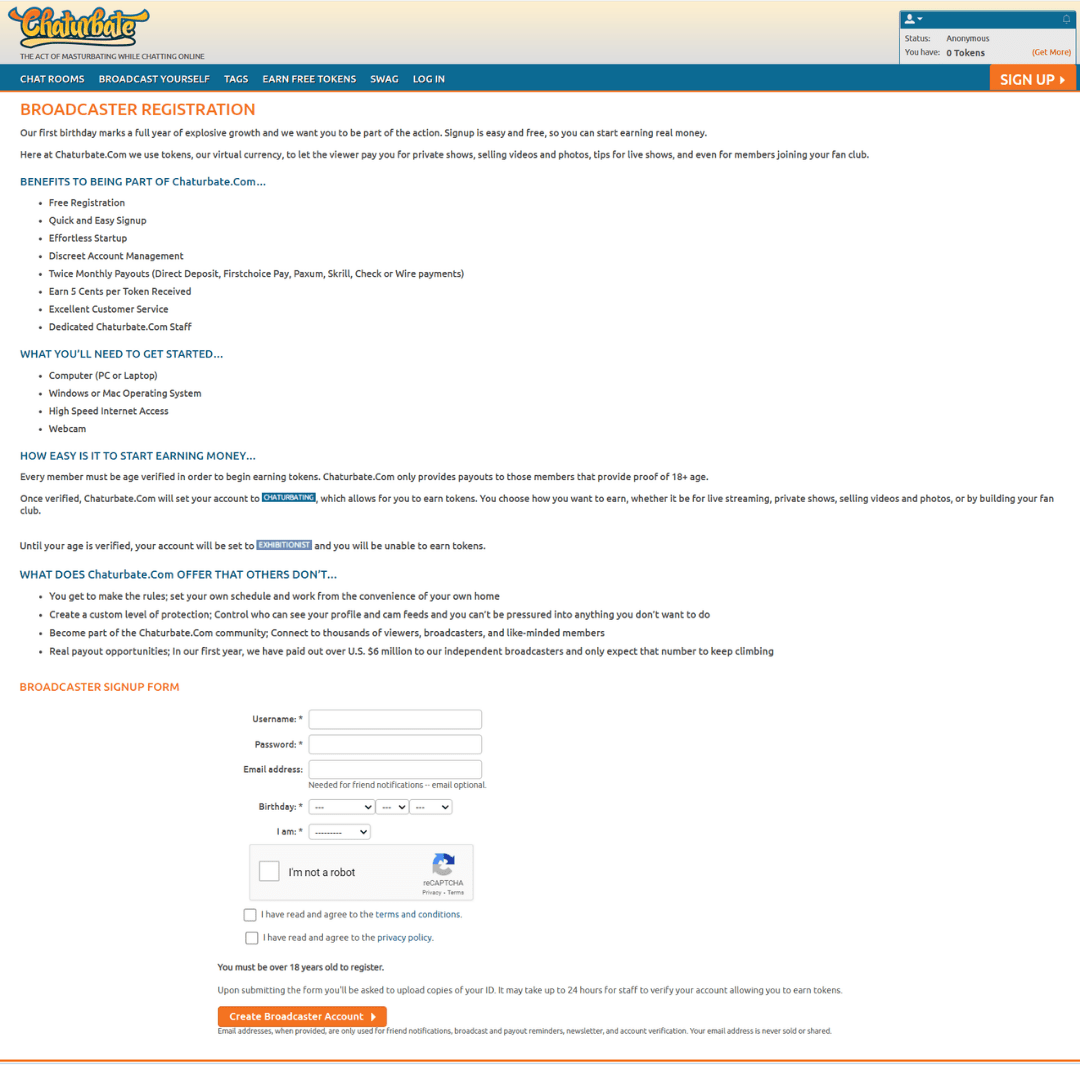 Enter the username of your choice. As this will be your new webcam model name, give it some thought. You can choose any name you like, but we advise that it be intriguing, memorable, and unique. Maybe it has to do with your character or the sort of performances you want to do. Use a pseudonym if possible to avoid disclosing any personally identifiable information.
If you want to market yourself on social media, it is also a good idea to use the same username across all of these platforms. This will allow you to keep your personal identity separate from your camming identity.
Once you filled in all the remaining fields, remember to read and agree to the Terms and Conditions before clicking 'Create Broadcaster Account'.
Step 2: Complete Independent Broadcaster Verification

Agree to Independent Broadcaster Agreement
Enter your full name, valid email address, and date of birth. Then press the 'Display/Update Agreement' button.

Please ensure that this information is correct. Chaturbate will never reveal your personal information to third parties or other Chaturbate members.
If you are satisfied with the Independent Broadcaster Agreement, copy and paste your entire name into the E-Signature box and click 'I Agree'.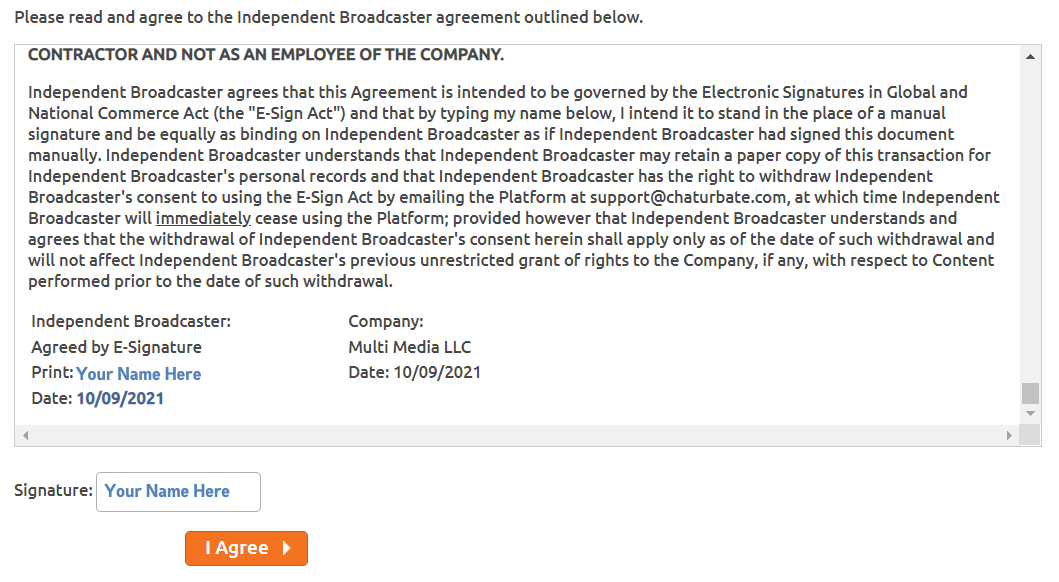 Confirm"Your Age and Identity"
To prevent any problems or delays in the Chaturbate Age Verification procedure, you must ensure that you have the proper ID before applying to be a Chaturbate model.
Accepted
Drivers License
Passports
Not Accepted
Permit or temporary IDs
Hand-written or drawn ids
Photoshop or photo/image manipulations
Birth certificates
Your identification must be current and not expired in order to be accepted. Therefore, displaying the date of issue and expiration. It must also provide your legal name, date of birth, ID number, and a picture of you that is easy to recognize.
Additionally, you must also upload two photos. One shows your identification clearly from both sides, while another shows you holding your ID.
It should appear as though you are taking a selfie while holding your ID when you take a photo of yourself holding it. Your face and ID must be in sharp focus, and the photo must be a clear close-up.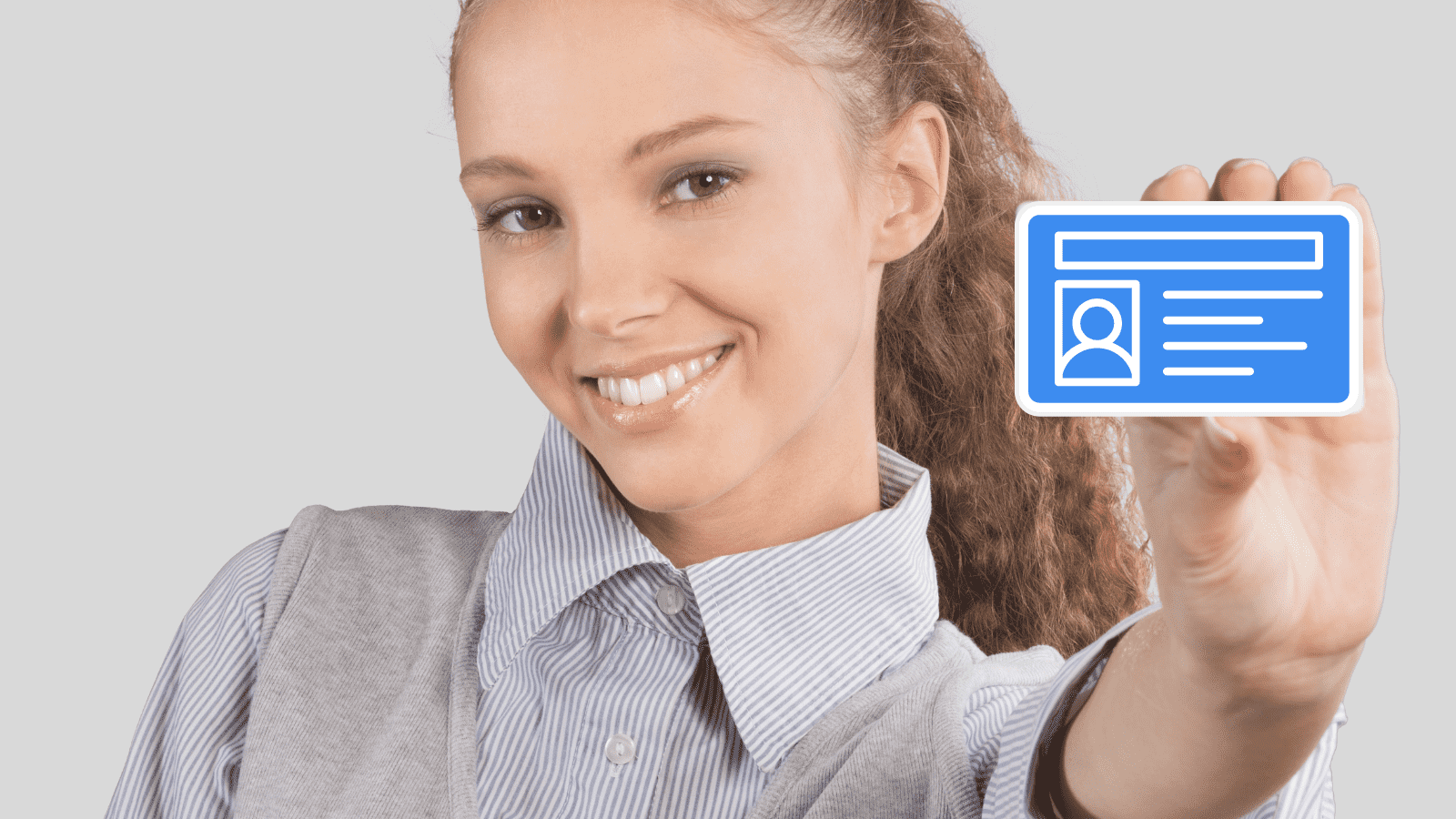 Make sure that your face is visible together with your identity card to prevent rejection.
All of these procedures are in place for security reasons and to stop people from creating fake Chaturbate model accounts.
You will receive an email once Chaturbate has verified your account. Then you'll be able to start your first live cam show and earn Chaturbate tokens. Hooray!!!
To prepare for your first live broadcast, there are still a few more things you'll need to do, like setting up your chatroom, webcam, and payout information. But don't worry, as we have put together a simple Chaturbate Guide that will take you through all the steps.