It's no secret that Chaturbate has become the biggest free adult webcam site in the world. It can be pretty intimidating for beginners to take their first steps online and figure out how to broadcast with a camera in their room. In this blog post, we're going to share with you some top tips for getting started with Chaturbate and some useful resources that will help you get up and running as soon as possible.
If you have arrived here not really knowing what Chaturbate is, then make sure to read the next couple of paragraphs explaining about the platform and how you can make money as a webcam model. Feel free to skip to the tips, if you already have a Chaturbate broadcaster account set up, and just need some helpful information to get started.
So What Is Chaturbate?
Chaturbate is an online platform that allows users to watch and broadcast live streams. It is primarily used for adult entertainment and has been described as a "camming" site. Camming, or webcam modeling, is a form of sex work in which models perform live on the internet for an audience. Chaturbate allows users to watch and interact with the models in real-time, and also offers a platform for models to earn money from their performances.
How Do Webcam Models Earn Money From Chaturbate?
Webcam models on Chaturbate can earn money through a variety of methods. The most common method is through tips from viewers. Viewers can tip the model in tokens, which can then be converted into cash.
Models can also earn money from private shows, where they perform for a specific member for a set amount of time. Additionally, models can earn a percentage of the revenue from the user-subscription fees on their profiles. Chaturbate also offers a referral program, where models can earn a percentage of the spending of members they refer to the site.
Chaturbate Broadcasting Tips For Being A Successful Cam Model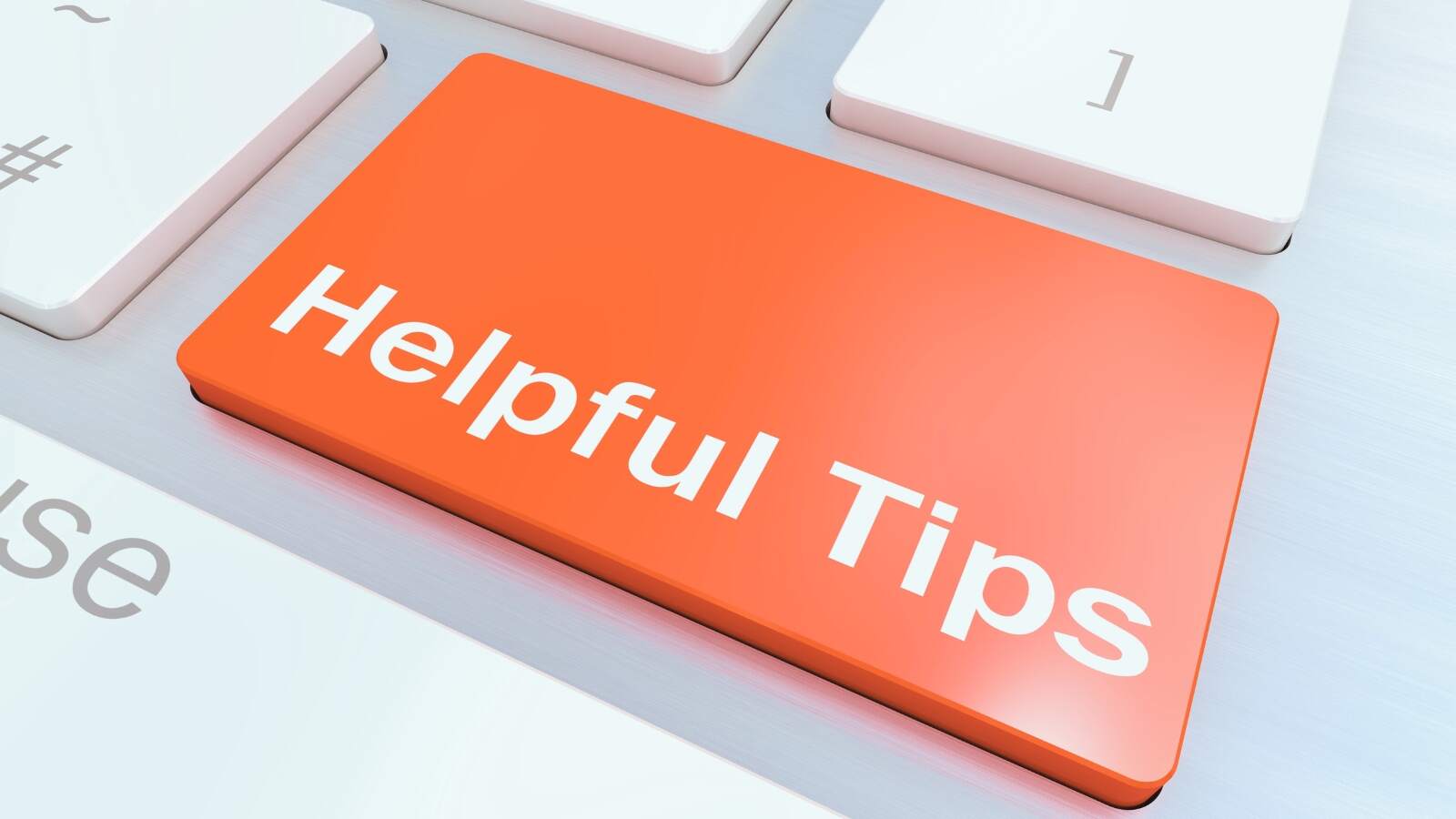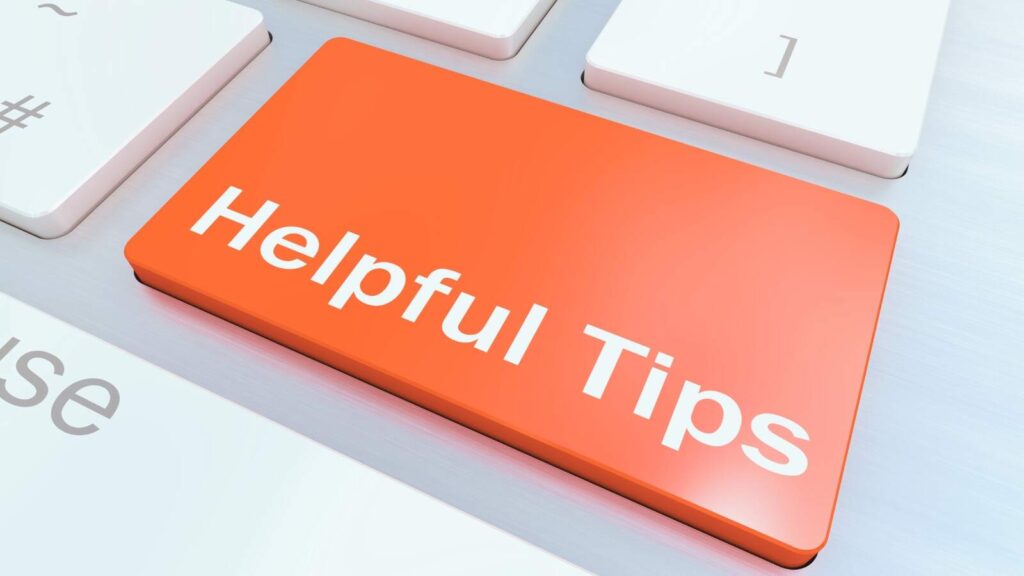 Broadcasting on Chaturbate can be a fun and exciting way to make some extra money. If you are thinking about starting your own model page or already have one, there are a few things that you should know before you jump in. This will help you gain experience and make the most out of your Chaturbate model career.
What are Chaturbate Tokens and How Do They Work?
As a Chaturbate webcam model, you can earn money by performing on the site and receiving tips from viewers. Tokens are used as a virtual currency on the platform, also known as "Chaturbate Tokens." Viewers can buy tokens and then use them to "tip" the models or to pay for private shows. Models can then exchange the tokens they earn for cash.
To be able to receive tokens on Chaturbate, you must be "Age Verified." This means that you need to prove that you are over the age of 18 before you can receive tokens from viewers. To make sure that you can receive tokens without any problems, read our post about Chaturbate Age Verification.
Tipping on Chaturbate
Tipping on Chaturbate is a way for viewers to show their appreciation for you and how you perform on cam. The type of performances or requests that Chaturbate models are tipped for, can vary widely. Some models may choose to perform certain actions or fulfill specific requests in exchange for tips, while others may prefer to focus on more general performances and let the viewers decide how to show their appreciation.
Some examples of the type of performances or requests that Chaturbate models may be tipped for include:
Stripping or dancing
Roleplaying or acting out scenarios
Playing games or doing challenges
Fulfilling requests for specific actions or poses
Having conversations or interacting with viewers
Performing acts of a sexual nature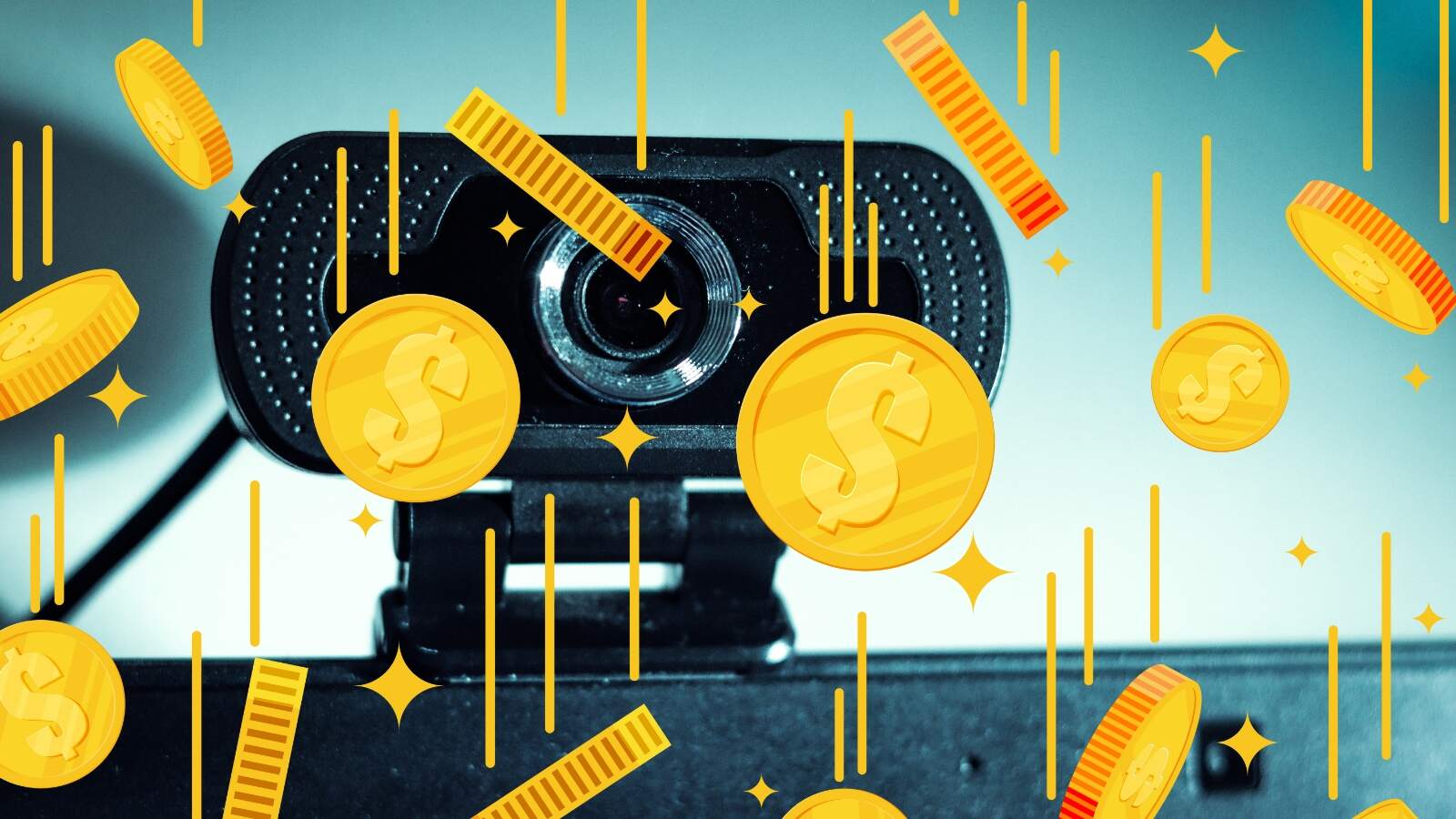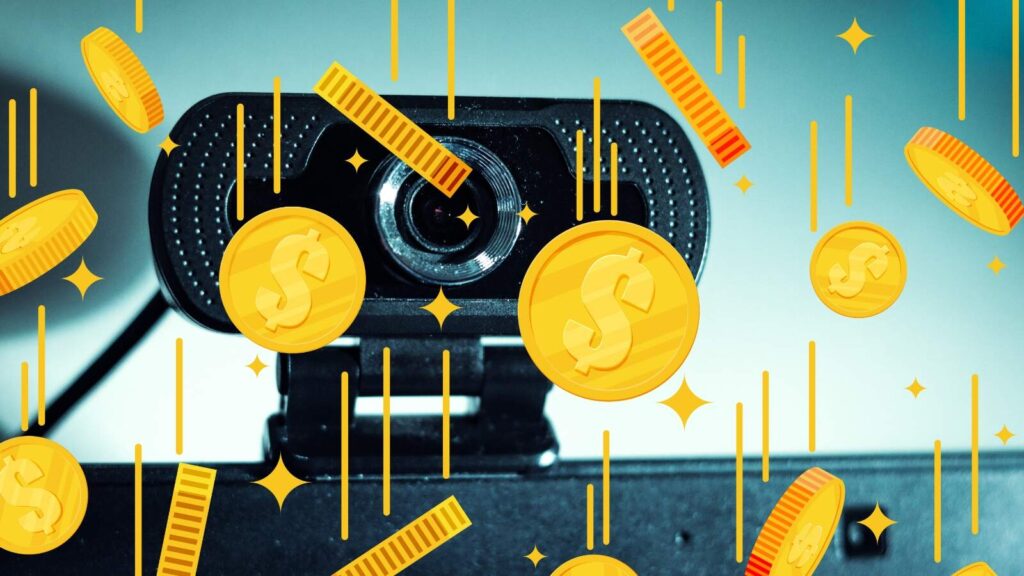 When you receive a tip, you'll see a notification in the chat with the sender's username and the amount they've tipped. Tips are accompanied by a sound effect (unless you disable it) and will instantly update your token balance.
Overall, the specific performances or requests that you can be tipped for will depend on your personal preferences and boundaries. Some models may be open to a wide range of requests while others may have more specific boundaries.
Chaturbate Token Worth to a Model
As a model on Chaturbate, a portion of your earnings goes to Chaturbate itself because it takes a commission. So you won't get the same amount in dollars that a viewer has paid for the tokens. For instance, 100 tokens are worth $10.99 to a viewer, but since Chaturbate keeps some of that value you would only get $5.00 for the 100 tokens you earned.
For a webcam model on the site, each token converts to a cash value of $0.05. Below is a breakdown of the Chaturbate token amount vs the value in US dollars.
1 token = $0.05
20 tokens = $1.00
100 tokens = $5.00
500 tokens = $25.00
1000 tokens = $50.00
10000 tokens = $500.00
It is not unheard of for Chaturbate models to earn thousands of tokens in one show. For more established models, this figure could grow substantially higher. However, Your earning potential will depend on many different factors. such as appearance, personality, and the type of content you produce. How much time you spend online, and what kind of shows you perform. Additionally, it may also be influenced by how popular you are on the platform and how many regular viewers you have.
Converting Tokens and Getting Paid
Chaturbate offers eight payment methods for cashing out your tokens: Paxum, CosmoPayment, ePayService, Skrill, Bitcoin, Check by mail, Wire Transfer, and Direct Deposit (USA only).
You need to earn at least $50 worth of tokens before you can withdraw your tokens to cash. If you do not earn the minimum amount within a pay period, your balance will carry over to the next pay period until it reaches the minimum amount.
Note that payment periods are every two weeks, from the 1st to the 15th and the 16th to the 31st of each month. Chaturbate typically sends payments within 7 days of the end of the pay period.
To convert your Chaturbate tokens to cash, follow these steps:
Go to the "Broadcast Yourself" page on Chaturbate.
Click on the "Token Stats" link.
Look for the "Transfer tokens to cash" link and click on it.
Your tokens will be converted to cash and the payout will be processed according to your selected payout method.

For an in-depth look at payout methods and converting tokens, check out How to get paid on Chaturbate for some more helpful tips.
How To Control Your Room on Chaturbate?
As a webcam model on Chaturbate, you have a few options for controlling your chat room. One option is to use the built-in chat moderation tools that Chaturbate provides. These tools allow you to control who can enter your chat room, as well as giving you the ability to ban users who violate your rules. You can also use the tools to silence or ignore users who are being disruptive.
Room Settings and Privacy
To configure your room and privacy settings, click the "Settings & Privacy" tab beneath the broadcast window. You can change the settings for your private shows, enable your fan club, set a password for your room, and customize features like who may visit your room and from what region.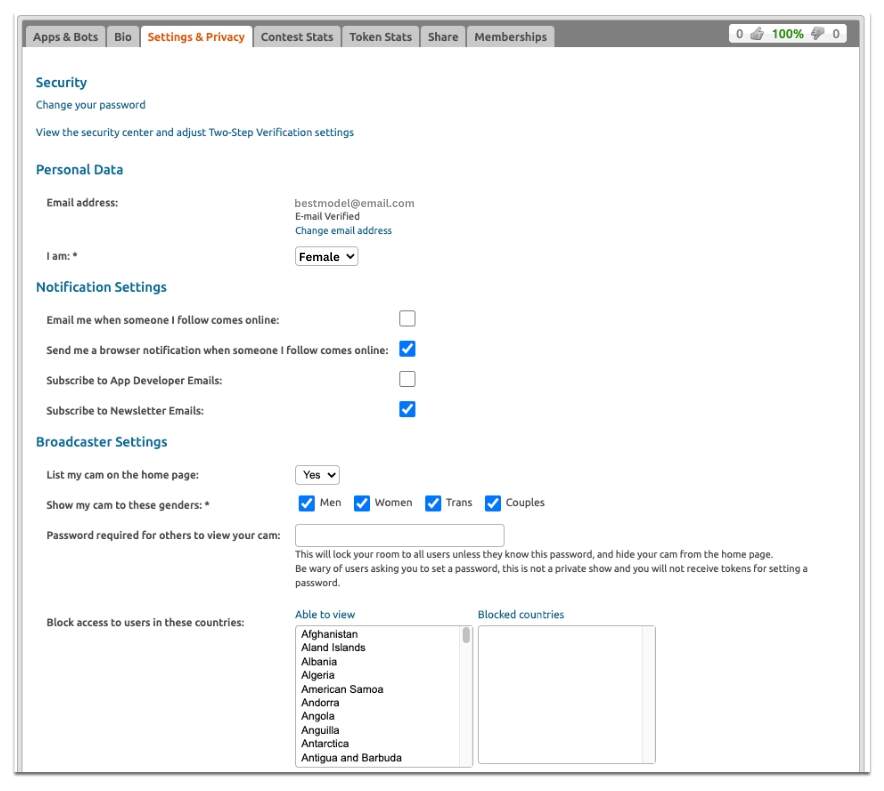 Blocking Regions and Countries
In the "Broadcaster Settings" section of the "Settings & Privacy" menu, you can prevent certain regions, states, or countries from viewing your room. Your room will be inaccessible to viewers with IP addresses from restricted locations, both registered and anonymous.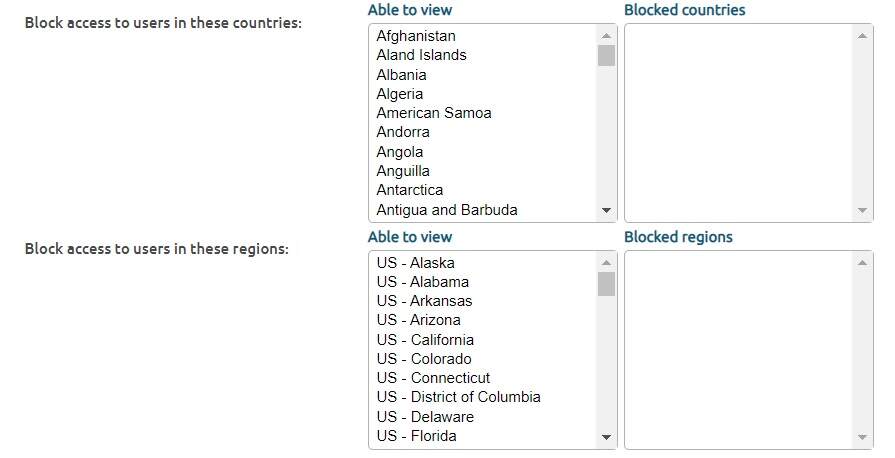 Banning and Silencing Viewers
There are two ways to restrict or limit the chat privileges of a user in your room if they are being rude or offensive. The first is when you click on their username in chat and select "Silence for 6 hours," they will not be able to talk in your room.
Alternatively, selecting "Kick/Ban" on a user's name in chat will stop that person from speaking altogether or seeing what is happening inside your room. You can view all bans and even permanently ban a user by clicking the gear icon at the top of the Chat Menu and selecting "View/Edit Bans and Silences."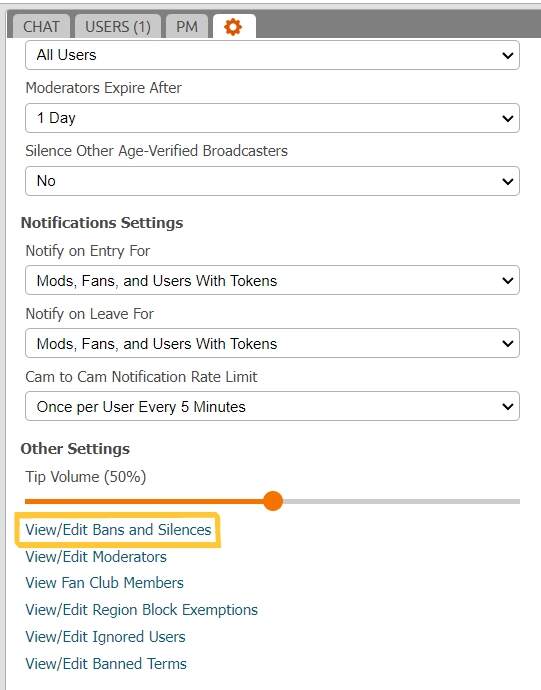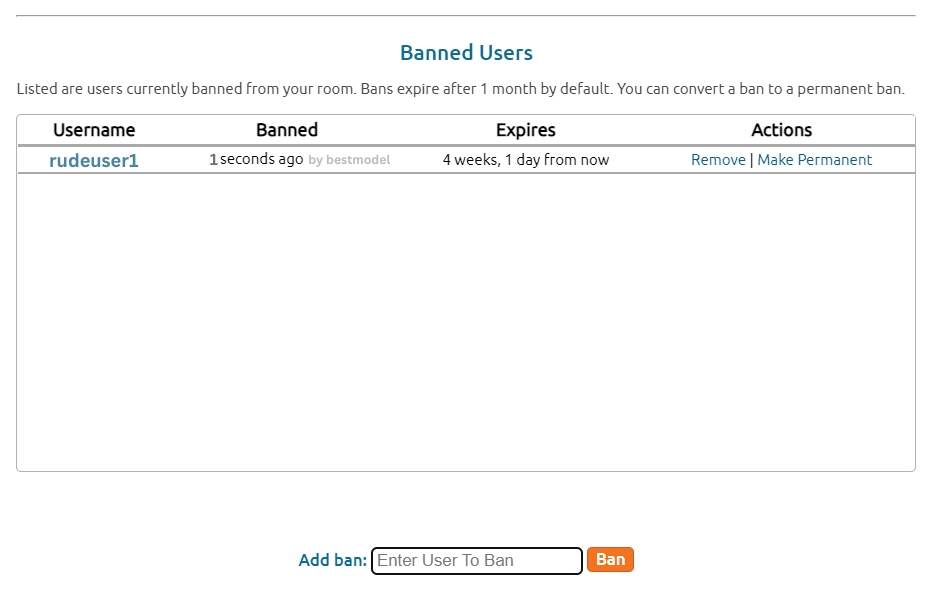 What Is A Moderator on Chaturbate and How To Appoint One?
A Chaturbate moderator is a user who helps ensure a quality broadcast for the broadcaster and viewers. Moderators can encourage viewers to tip, provide insights, and monitor the chat log for rule-breaking behavior. They can also be given the power to silence users who break the broadcaster's rules. Broadcasters have the option to set an expiration for their moderators, ranging from 1 day to 6 months. This can be done from the broadcast page.
Moderators are an important part of the Chaturbate community. They help make sure broadcasts are fun and respectful for everyone. Broadcasters can choose who they want to appoint as a moderator and how long they want them to help out. This makes it easy to get the support you need to make your broadcasts a success.
Granting Moderator Privileges
When choosing a moderator for your Chaturbate broadcast, it's important to take your time and choose someone you trust. Get to know other community members and check out how moderators work in other rooms. Once you find someone who you think will do a good job, let them know your rules and how you want them to handle any rule-breakers.
You can promote anyone in your room to be a moderator by clicking on their username and selecting "Promote to Moderator."
How Do Username Colors Work in Chaturbate?
Username colors on Chaturbate indicate a user's membership status or how many tokens they have tipped. Typically, users with grey usernames are basic members, while users with green, purple, or blue usernames have either upgraded to a premium membership or purchased tokens. The exact colors and their associated statuses are listed below:
Orange – Broadcasters
Red – Moderators
Green – Fan Club members
Dark Purple – Has tipped at least 1000 tokens within the past 2 weeks
Light Purple – Tipped at least 250 tokens within the past 2 weeks
Dark Blue – Has tipped at least 50 tokens in the past 2 weeks
Light Blue – Own or have purchased tokens
Grey – Basic users who have never purchased tokens
What Are The Types of Shows Performed By Chaturbate Models?
If you are new to webcam modeling on Chaturbate, you might be wondering what the different "Show Types" are that models can perform on the platform. Let's look at the different kinds of Chaturbate shows, and how they can help significantly increase your fanbase and income.
Public (Free Chat) Shows
A "Public Show" is when a model is visible to anyone who visits their webcam room. You can use this type of show in order to attract "tippers" (potential paying members) to spend tokens, or to take you to a private session where you can earn more tokens quickly by charging a per-minute rate.
Although it is not required, being nude in "Free Chat" will help you connect with more viewers. Many Chaturbate models set up "Tip Menus" where a user tips for a request off the menu. Additionally, "Tip Goals" can be created where you can set the number of tokens required in order to achieve the goal. For example, you might have a tip goal for bouncing your boobs if you hit 100 tokens.
Setting goals like this keeps viewers engaged and will help you to gain tokens more quickly.
Private Shows
Private cam shows allow you to connect with another Chaturbate member in a more intimate manner. You can set your own rate per minute (paid in tokens), also the minimum length of time they spend with you. The longer the private show, the more tokens you earn. Privates are a good way to increase your tips and Chaturbate token balance, much faster.
To amend or change your Private Show settings click on the "Settings & Privacy" tab under your broadcast window.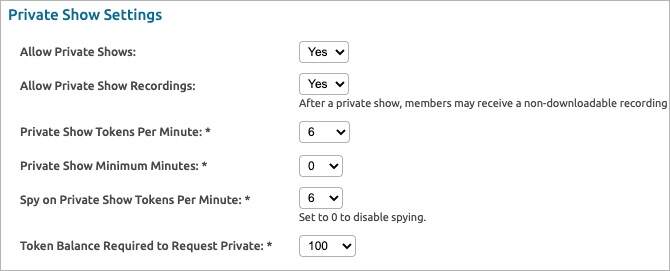 To start a private cam show, a member must request one from the broadcaster. You will receive a "Start Private" popup notification when someone requests a private show. Either "Accept" or Decline" it by clicking your preferred choice.

Spy shows are an optional feature that allows Chaturbate members to pay to see the private show. But they cannot see the private chat. You can also set the per-minute token rate and disable spy shows if you don't want them.
Hidden Webcam Shows
Many Chaturbate models use apps to hold "Hidden" or Ticket Shows. Only ticket holders are permitted to view your live feed. Tickets for the event can be purchased by tipping the necessary amount of tokens before the timer runs out. Being able to set your own ticket price means that hidden cam shows are a great way to increase your tips on Chaturbate.
Password Shows
Password Shows are password-protected webcam shows. They provide an opportunity for you to share intimate moments with your audience through private chat sessions. Your viewers will only be able to access these shows if they know your password, making them perfect for one-on-one conversations or even longer webcam sessions without having to worry about time limits!
Try to agree on a specific amount of tokens for the password show. Also, make sure the tokens are paid to you before the show starts. Unlike private shows, tokens won't be deducted from the user every minute. Furthermore, be honest with them about what to expect from the show and how long it will run.
How to Get More Chaturbate Viewers In Your Room?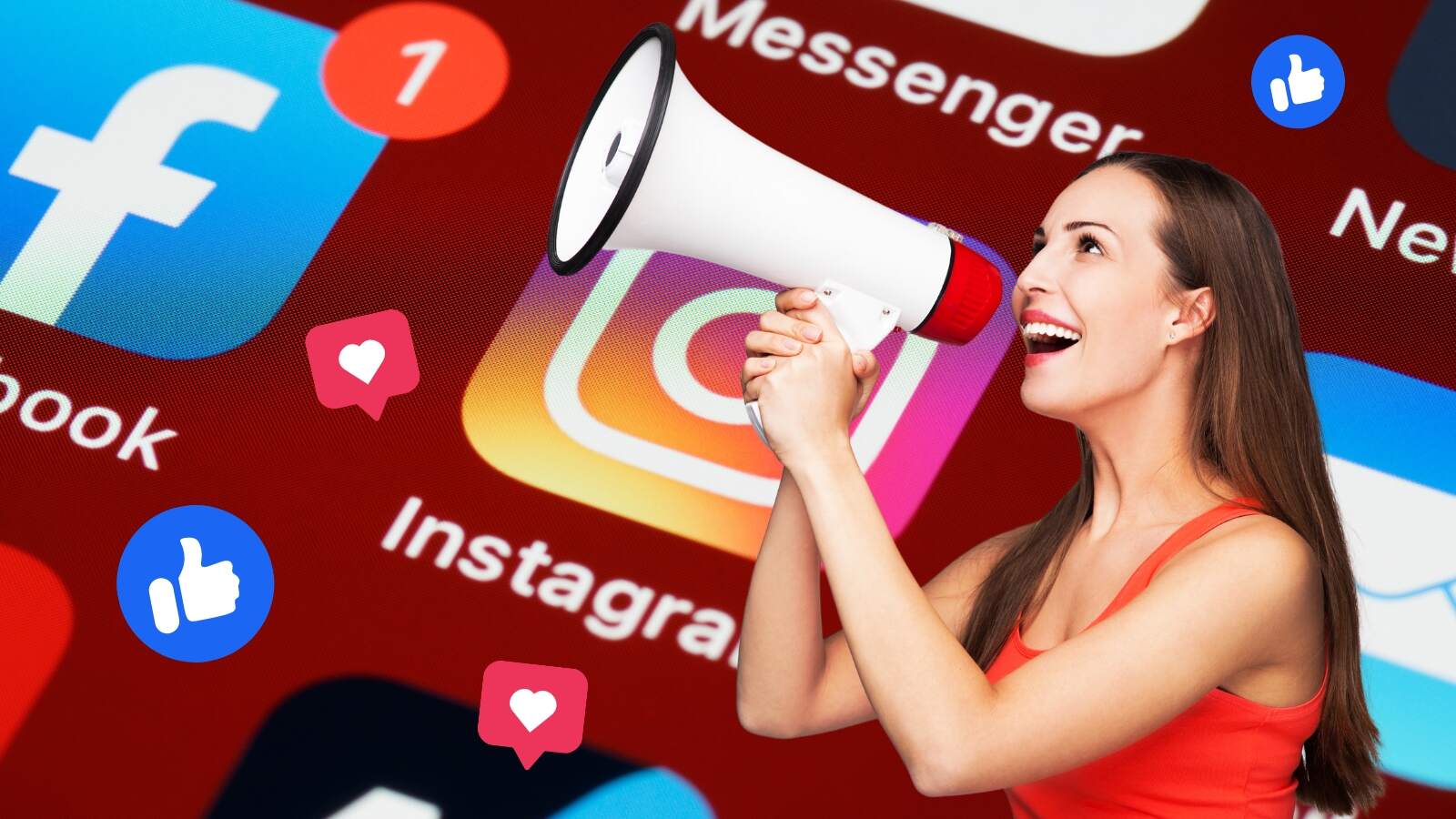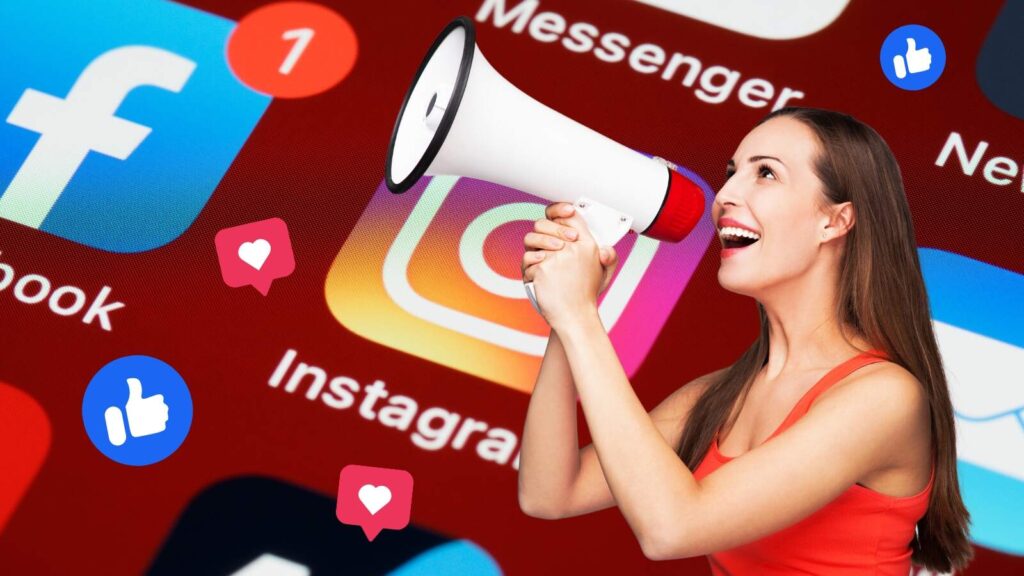 To be successful on Chaturbate as a broadcaster, it's important to have an audience. Without viewers, you won't receive any tips! While some broadcasters can be successful with a small audience, others may need a larger number of viewers to truly thrive on the platform.
Fortunately, it's not too difficult to get some views on Chaturbate. However, retaining those viewers and turning them into regular members of your audience, can be a bit more challenging. Here are some tips to help you get more viewers in your Chaturbate room:
Use Catchy Titles
Using catchy titles for your Chaturbate broadcasts can help to increase your visibility, set the right expectations for your viewers, and differentiate your content from others on the platform. By putting thought and effort into crafting interesting and engaging titles for your broadcasts, you can attract more viewers to your room and potentially earn more money on Chaturbate.
Add Hashtags
You can use up to 5 hashtags on Chaturbate to make it easier for users to find your room when searching for content. Hashtags can also help users know what you will be doing in your show or how you identify. For example, if you are a Chaturbate broadcaster who specializes in BDSM content, you can use hashtags such as #BDSM, #domination, and #submission in your profile and broadcast subject line.
Interact With Users
Interact with other users in the chat to build a following. Engaging with your viewers by responding to their comments and requests can help to create a more personal and interactive experience for them which can encourage them to visit and stay in your room.
Try Being Unique
Offer interesting and engaging content: Viewers are more likely to visit and stay in your room if you offer interesting and engaging content. This can include fun and interesting activities like games, engaging conversations with viewers, or performing interesting or unique acts.
Broadcast Regularly
It is important to regularly schedule your Chaturbate broadcasts so that your followers know when to expect you to be online. This can help you to attract more viewers and potentially earn more money through tips. Furthermore, adding your hours to your bio keeps users informed even if you are offline.
Promote on Socials
Promoting your Chaturbate room on social media and other platforms is a great way to attract viewers and make more money. Share links on sites like Facebook, Twitter, and Instagram, remembering to stay within platform guidelines. Use trending hashtags related to your content when sharing links, and consider creating a dedicated social media account for your Chaturbate broadcasts. This will help protect your privacy and only drive audiences to your room that are interested.
Notify Your Followers
Chaturbate has a great feature that automatically sends an email or notification to all of your followers letting them know that you are now online. Just click the "Announce you're online" link above your broadcast window. Additionally, you can customize these notifications by adding a non-nude photo.
Remember, building a following on Chaturbate takes time and effort. Be patient and focus on providing a high-quality experience for your viewers to keep them coming back for more.
What are Apps and Bots on Chaturbate?
Chaturbate offers a range of "Apps and Bots" that can be used to enhance your broadcast and interact with viewers. These tools can help you to engage with your audience and offer a more dynamic and interactive experience.
Some examples of Chaturbate apps and bots include the Lovense Remote app, which allows viewers to control your Lovense sex toys from their own device, and the Roll the Dice app, which lets viewers play games with you during your broadcast.
There's also a range of bots that can be used for tasks such as managing your chat room and sending automatic messages to viewers. You can browse and install apps and bots from the Chaturbate Apps and Bots page.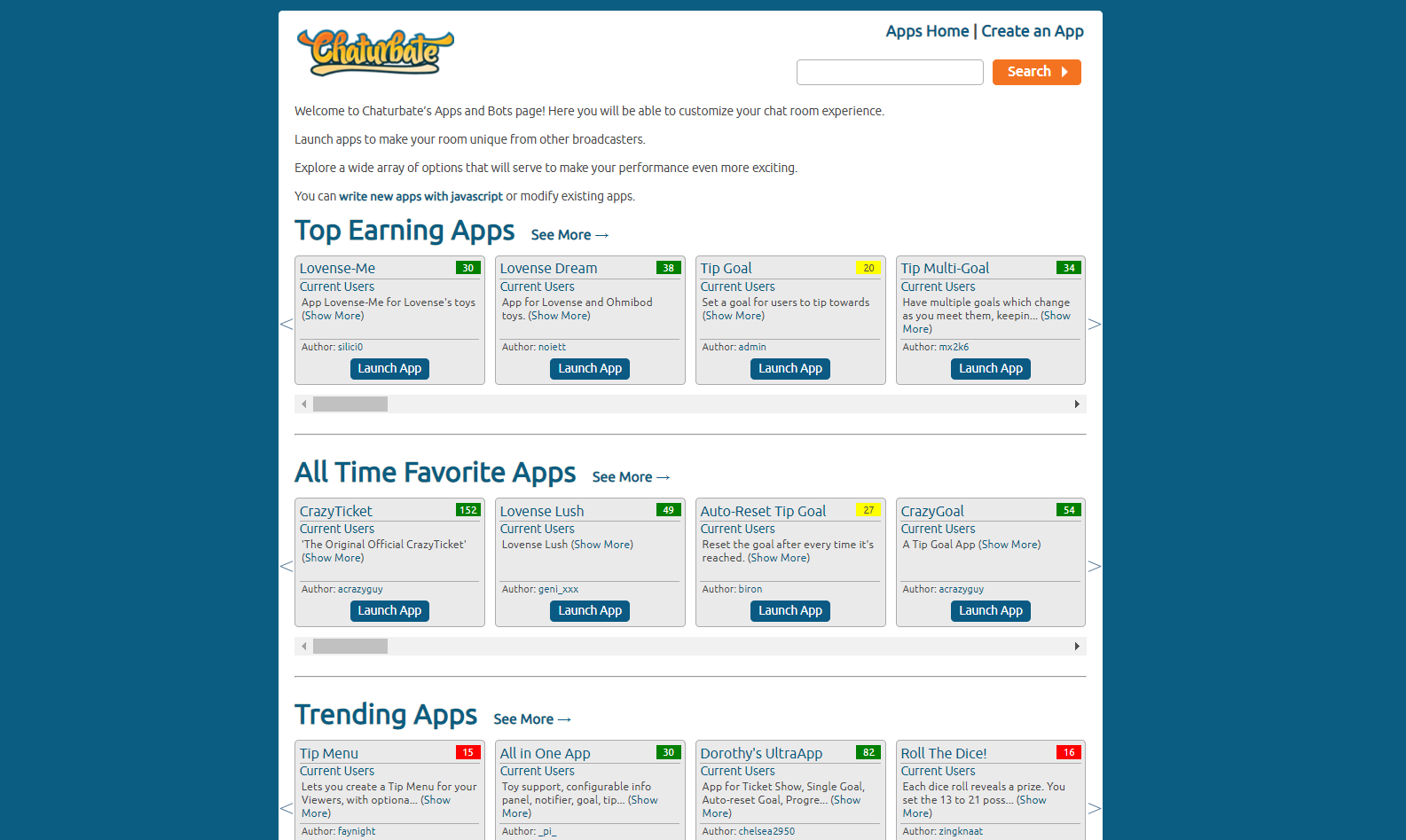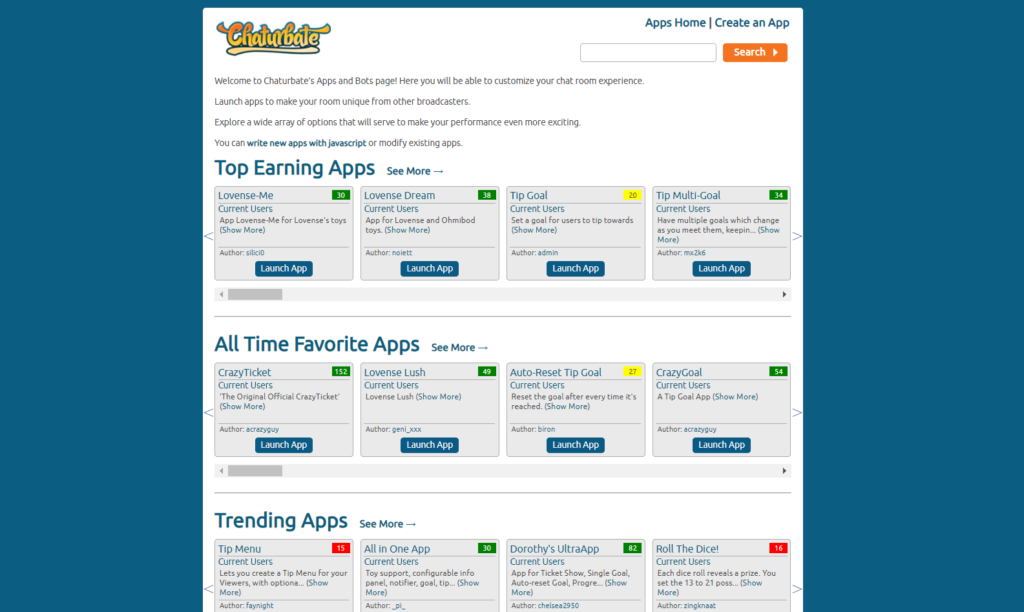 Chaturbate Model Broadcasting Tips Conclusion
In conclusion, being a Chaturbate model can be an exciting and rewarding experience. With the right tools, tips, and techniques, you can quickly build a loyal following and start making money from your Chaturbate broadcasts. By setting yourself up with a good camera, lighting, and internet connection, engaging with your audience, and following the platform's rules and guidelines, you can become a successful Chaturbate model in no time. So why not give it a try and see where it takes you?
---
You May Also Like: