If you use Chaturbate, then you've probably heard the phrase "Mods" or "Moderators." You may have wondered what a moderator does on Chaturbate, what their role is and how they impact the community. As with any website that deals with sexuality, there's bound to be some disagreement, drama, and friction. That's where the moderators come in handy. But don't worry; they're here to make sure it's all fun and games – most of the time!
Who Are Moderators on Chaturbate?
Moderators are essentially other Chaturbate users that make sure that everything is running smoothly in a model's webcam chatroom. They work alongside broadcasters and do their best to keep trolls and spammers off the site, as well as enforce any rules that have been made by the broadcaster or Chaturbate itself.
In addition to keeping the chatroom in order, moderators can directly communicate with the broadcaster, also encourage viewers to tip in order to reach a goal, and provide live insight should a problem occur during the broadcast.
Why Are Chaturbate Moderators important?
Moderators have a crucial job to do. They watch the chat log during your broadcast and use their judgment as necessary to silence users who break rules. Abusive language, certain requests, or behavior might be offensive to you and other models, and moderators have the ability to decide whether or not a person can continue to view your live stream.
In addition, moderators can help you in the following ways if required:
Encourage viewers to spend more tokens to help you achieve a "tip goal."
Answer the simple questions commonly asked by viewers.
Help you learn how to use Chaturbate's features, for example, Apps & Bots.
Give advice on how to make your Chaturbate profile more appealing.
What Makes a Good Chaturbate Moderator?
A good moderator will help you engage your audience, introduce the show and its rules, encourage viewers to tip in order to reach your goal, and handle any unwanted comments so that you can fully focus on your live show.
However, keep in mind that moderators are not working as part of the Chaturbate team; they are just other community members that you've selected to help control your room.
How Do I Make a Chaturbate User My Moderator?
When choosing moderators, don't just pick the first person who asks.  Get to know people in your community, and go to other rooms and see who the moderators are there.  Once you've found someone you trust, talk with them about how you want things handled in your room and what is and is not ok.
You can give moderator privileges to any of your room members who you trust to help you run your broadcast. To do so, click on their username and select "Promote to Moderator."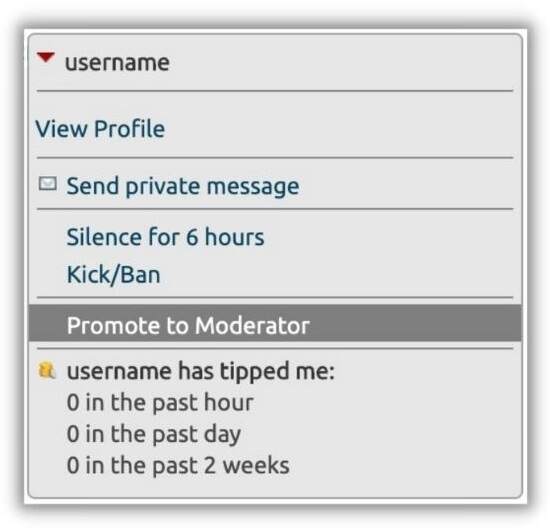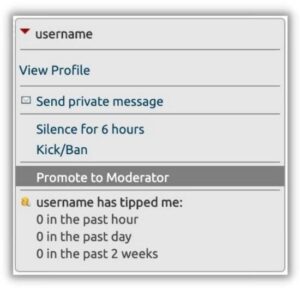 Can I Change or Remove a Moderator On Chaturbate?
If you are unhappy with how a moderator is moderating your chat room or simply want a change, you can remove them at any time. Always keep in mind that you are in charge. You are not required to give anything to any of your chosen moderators unless you wish to and/or until you've agreed to it with them.
Feel free to report any forceful or abusive moderators to Chaturbate support, just like you would with other pushy or abusive users.
You can also choose to set an expiration date for your Moderator. The options are from 1 day to 6 months. This can be set under the gear icon above the chat window on the broadcast page.
Chaturbate Moderators Conclusion
Moderators are an essential part of the Chaturbate experience. They ensure that broadcasters and users alike have a fun, safe time on the site. They help keep things running smoothly by enforcing rules and making sure that nobody is breaking them. More importantly, a good moderator will work for you, to encourage members to tip so that you can achieve your goals, and ultimately earn more money.