Ever found yourself browsing through countless sex toys online, wondering which one truly stands out from the rest? Well, you're in the right place! Today, we review the Lovense Gravity, a game-changing dildo that's been making waves (and not just the vibrating kind).
With its unique combination of thrusting and vibrating features, it promises a personalized experience like no other. But does it live up to the hype? Stick around as we unpack everything you need to know about this luxury sex toy, ensuring you make an informed decision. Let's get started, shall we?
Lovense Gravity – What is it?
Picture this…a dimly lit room, anticipation in the air, and a device that promises an unforgettable journey. Enter the Lovense Gravity automatic thrusting and vibrating dildo.
Crafted from body-safe silicone, its sleek design isn't just about aesthetics; it's a promise of luxury. With dimensions of 9.2 inches (10.2" with suction) and 1.46 inches wide, it's tailored for comfort.
Now, the real allure is its dual action. Rhythmic thrusts that feel oh-so-real, intertwined with deep, soul-stirring vibrations (which can be controlled independently). And with a motor that can race up to 140 strokes per minute. It's all about choosing your adventure and letting the orgasms multiply!
But there's a twist. The built-in suction cup, a game-changer, beckons hands-free explorations. Mount it, lose yourself, and let Gravity lead.
And for the cherry on top? The Lovense app. Not just a remote, but a portal to personalized ecstasy. Sync it with your sultry music beats or with a playful partner who wants to control you from afar. It's your pleasure, your way.
"Fast, intense, and lasting – a thrusting dildo offering endless play styles"
Main Features and Benefits
When it comes to delivering unparalleled pleasure, Lovense Gravity truly shines as the best vibrating dildo on the market, with its array of features and benefits. Let's break them down:
Dual-Action Mechanism
One of the standout features of the Lovense Gravity is its dual-action capability providing amazing clitoral and G-spot stimulation. The rhythmic thrusting, which can go up to 140 strokes per minute, perfectly complements the deep, targeted vibrations. Whether you're in the mood for gentle waves of pleasure or intense pulsations, this device has got you covered.
Lovense App Compatibility
The true magic of Lovense Gravity lies in its connectivity. With the Lovense app, you're not just controlling the device; you're personalizing your entire experience. For instance, you can sync the vibrations with your favorite song and give yourself a little bump and grind! Or maybe let a partner, across the globe, dictate the pace? The app makes it all possible, ensuring every session is unique and tailored to your desires.
Long-Distance Control
Distance is no longer a barrier. Whether you're in a long-distance relationship or just looking for some fun, the remote connectivity feature ensures you and your partner stay connected. Hand over the controls and let them decide the rhythm, intensity, and pattern, adding an element of surprise to your intimate moments.
Innovative Design Aesthetics
Beyond its impressive functionality, the Lovense Gravity is a masterpiece of design. Its silhouette, smooth and sleek, exudes elegance. The deep, rich color combined with the lustrous finish not only feels great against the skin but looks exquisite too. It's a testament to the fact that a sex toy can be both functional and a work of art, seamlessly blending into your intimate moments and bedroom decor.
Hands-Free Pleasure
Imagine a world where pleasure doesn't require a guiding hand, where you're free to lose yourself completely in the moment. The built-in suction cup offers enhanced versatility. Its sturdy grip guarantees it stays in place. Mount it on the bedroom wall, floor, or any flat surface, for an orgasmic hands-free experience, allowing you to explore a variety of positions and angles.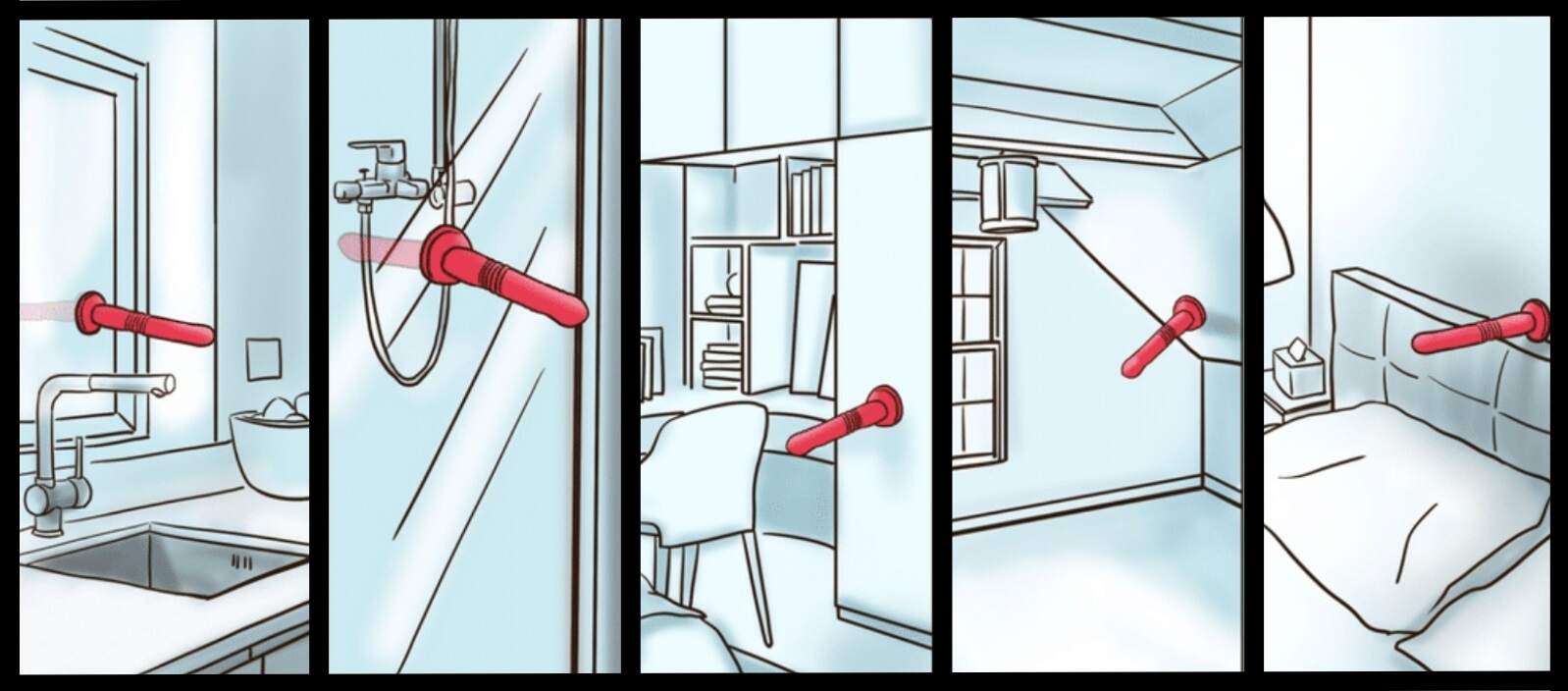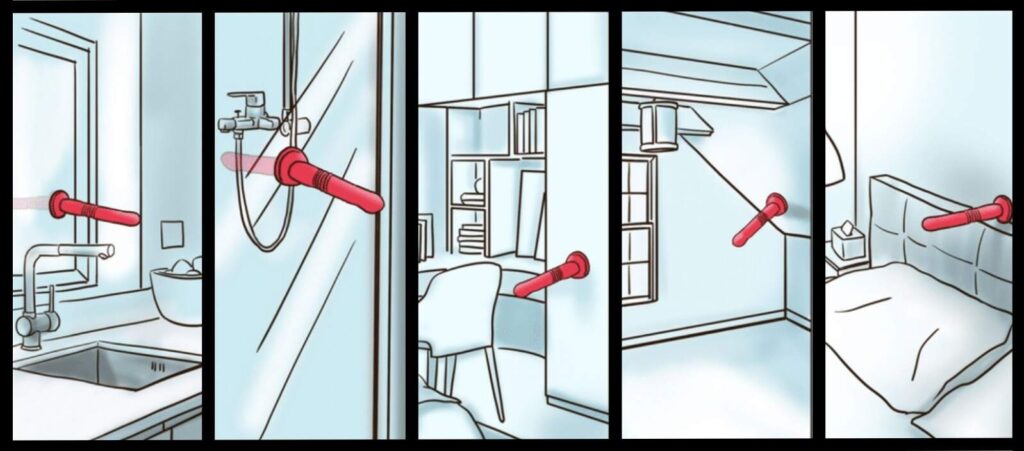 Whether you're indulging in a solo fantasy or sharing the experience with a partner, the Gravity ensures you're not just feeling the sensations, but truly living them.
Additional Gravity Features and Benefits
While the primary features of the Lovense Gravity are undoubtedly impressive, it doesn't stop there. This thrusting vibrating dildo also boasts a range of additional benefits that further enhance its value and appeal. Let's take a look:
Made from high-quality and durable body-safe materials.
Waterproof design for easy cleaning and use in the shower or bathtub.
Long-lasting battery life for extended playtime (4 hours of continuous Use).
Compatible with all Lovense app-enabled devices for added versatility.
Uses Wireless Connectivity and is USB Rechargeable.
One-year warranty included, for added peace of mind in case of any unexpected hiccups.
Perfect for people with different preferences and experience levels, whether you're a beginner or an experienced user.
What's In The Box?
Unboxing any Lovense sex toy is an experience in itself. Curious about what comes with your Lovense Gravity purchase? Let's take a peek inside.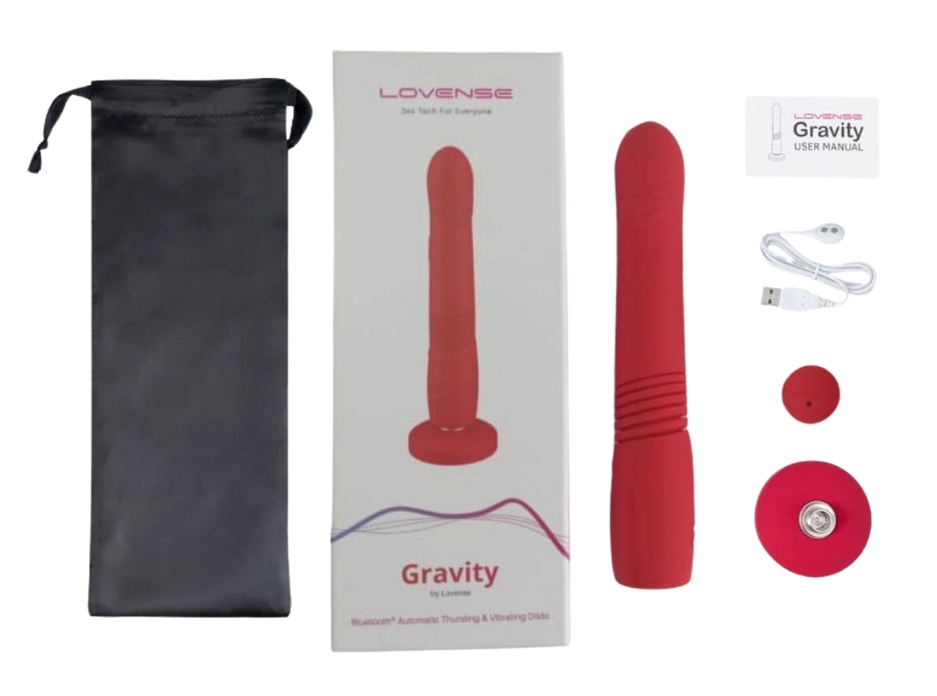 What's included:
Bluetooth Automatic Thrusting & Vibrating Dildo
Detachable Suction Cup
USB charging cable
User manual
Satin Storage bag
Values and Pricing
The Lovense Gravity is a premium product that boasts top-of-the-line features and an impressive design which is reflected in its RRP of $259.00. Some may find this to be a bit high, however, there's even better news! You can take advantage of regular online promotions that offer discounts of up to 50%!
When you weigh up the innovative features and the luxury experience it offers against its price, especially with the discounts, it's clear that the Lovense Gravity offers exceptional value for money.
How Does the Lovense Gravity Work?
Navigating a unique device as innovative as the Lovense Gravity may feel overwhelming. But fear not! We've crafted a simple, step-by-step guide to ensure you get the most out of this popular sex toy.
Preparation: Ensure a full charge before use, (around 2 hours) providing up to 4 hours of uninterrupted pleasure.
Connectivity: Download the Lovense app on your device, then seamlessly pair it with the Gravity.
Customization: Dive into the app's settings, tailoring vibrations, thrusts, or even syncing with your favorite tunes.
Getting Started: Lube up with a water-based formula, then slide in the Gravity for a snug fit.
Control: Navigate through the app, adjusting from gentle strokes to a powerful 140 thrusts per minute.
Hands-Free Fun: The suction cup is your ticket to versatility; attach it to walls, floors, or even in the shower.
Aftercare: Post-play, give it a gentle clean with warm water and soap, ensuring it's dry before its next adventure.
Enhancements: Spice things up with partner control via the app, or utilize sound-activated vibrations for a unique experience.
Maintenance: Always opt for water-based lubricants, and store your Gravity in a cool, dry place
Remember, every experience is unique, so feel free to experiment and find what works best for you. With proper care and a dash of creativity, the Gravity promises countless memorable moments.

Lovense Gravity vs Other Sex Toys
The Lovense Gravity has made a name for itself in the competitive high-end sex toy market with its unique features and exceptional design. What sets it apart is its innovative thrusting mechanism, offering realistic penetration with up to 140 strokes per minute, as well as a vibration motor at the tip. Giving you dual sensations far surpassing the vibration feature of most other dildos.
The Lovense app takes things to the next level, offering music syncing, close-range and long-distance control, and pattern customization, giving users a truly personalized experience. The Gravity's body-safe silicone material feels incredibly lifelike, and its luxury design ensures maximum comfort.
One exciting feature that has caught users' attention is the sturdy detachable suction cup, allowing for hands-free play and endless possibilities in any setting. The Gravity's battery life is also impressive, providing up to 4 hours of uninterrupted pleasure.
The versatility of the Gravity is unmatched, catering to solo sessions, couple's play, (simulate a threesome), or even webcamming. In short, the Lovense Gravity promises a thoughtfully crafted experience that truly stands out among other sex toys on the market!
Lovense Gravity Pros & Cons
Every product has its strengths and areas for improvement and the Gravity thrusting vibrating dildo is no exception. It has received high praise from customers, with many admiring its unique features and high-quality design. As part of our review, we have included some of the pros and cons of Lovense Gravity based on customer feedback:
Pros:
Dual stimulation with thrusting and vibrating features
Long-lasting battery life
Customizable settings through the Lovense app
High-quality, luxury design
Whisper-quiet operation for discreet use
Suitable for both solo play and couple play
Cons:
Expensive compared to other sex toys on the market
May not be suitable for people who prefer softer, gentler stimulation
Some customers have reported difficulties with syncing the device with the Lovense app
The weight and size of the device may not be suitable for all users
While the cons are worth considering, the overwhelming amount of positive feedback from customers and the unique features of Lovense Gravity, make it a worthwhile investment.
Popularity Among Webcam Models
In an industry where interaction is key, the Lovense Gravity has quickly become a popular sex toy among webcam models due to its unique features that allow for viewer engagement. The thrusting and vibrating features can be controlled by viewers through the Lovense app, or from tip sounds once a viewer has tipped, allowing for a more interactive experience. Additionally, the app's customized settings also give models the ability to cater to individual viewer preferences, leading to enhanced engagement levels.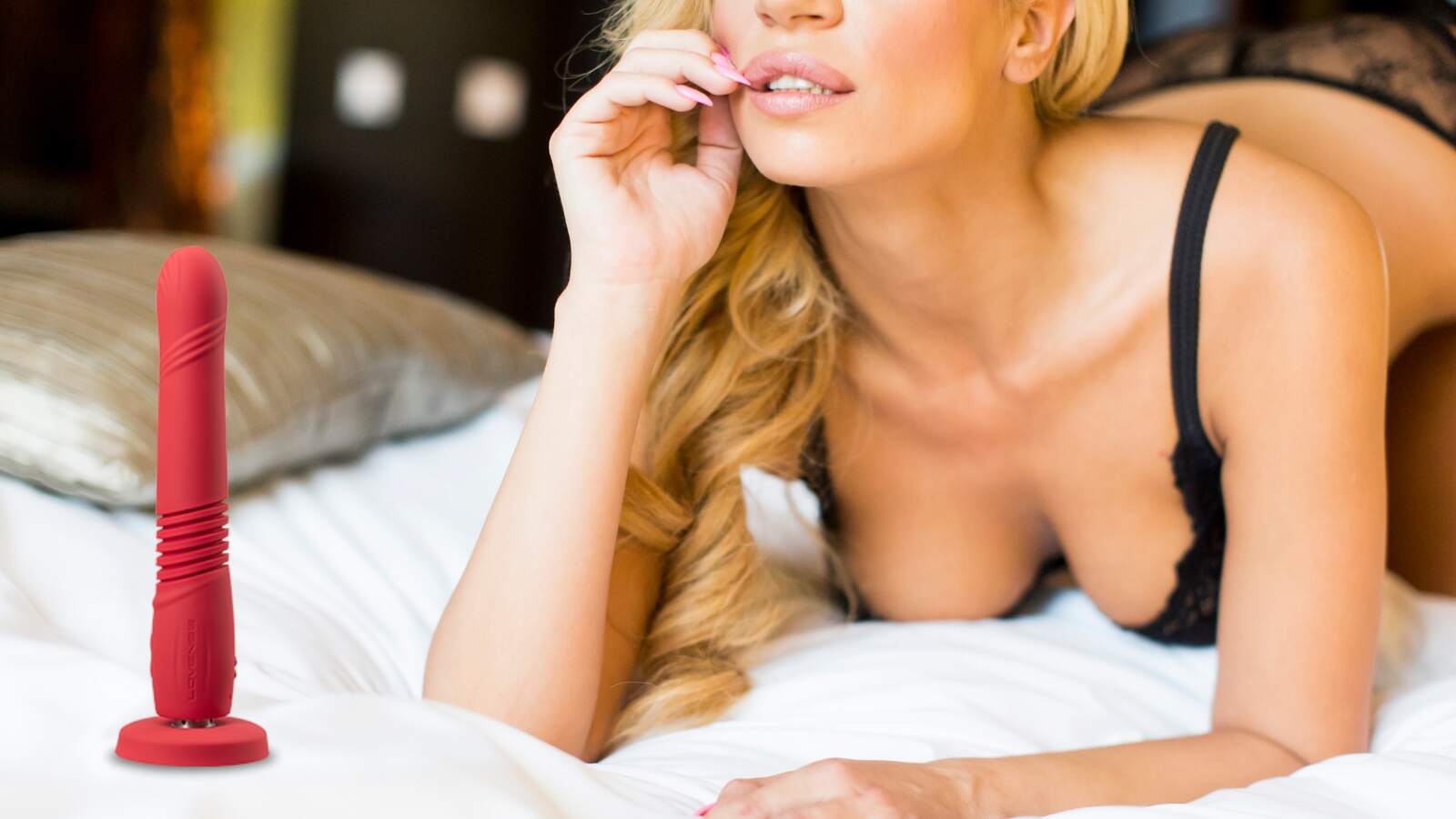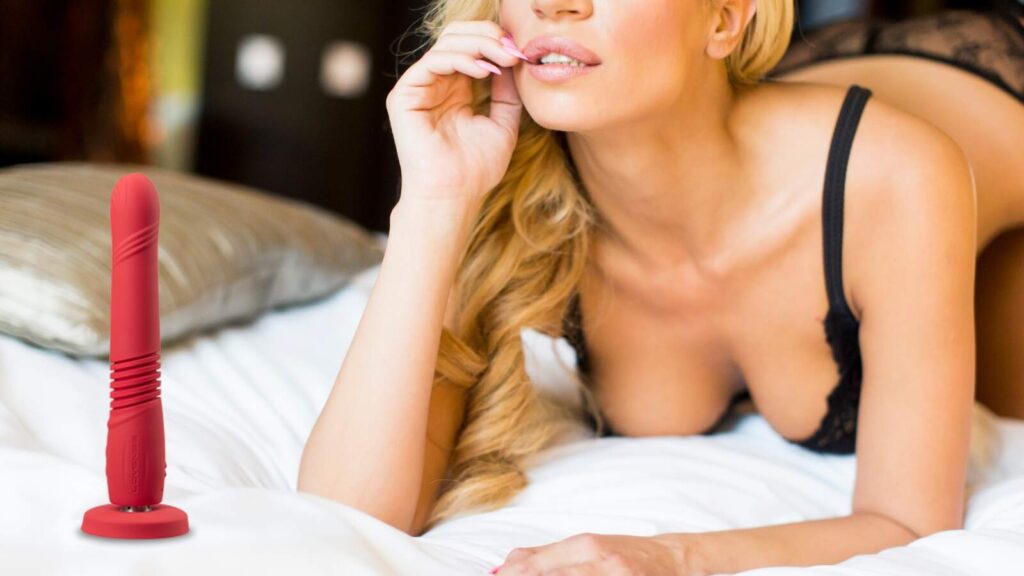 "My review of the Lovense Gravity…Wow! I am lost for words with this one. I have multiple toys but none as good as this one. This has given me the best orgasm so far!"
Check out our review of the Lovense Vulse. Another great toy popular with cam models.
Frequently Asked Questions (FAQs) about the Lovense Gravity
How do I charge the Lovense Gravity?
The Gravity comes with a USB charging cable. Simply plug it into the device and connect the other end to a USB port. A full charge typically takes about 2 hours.
Is the Lovense Gravity waterproof?
Yes, the Gravity is fully waterproof, making it perfect for shower or bath play. However, ensure the charging port is properly sealed before submerging.
How loud is the Lovense Gravity?
While the exact decibel level isn't specified, Lovense designs its products to be discreet. Users find its operation to be whisper quiet compared to other thrusting sex toys on the market.
Can I use the Lovense Gravity without the app?
Absolutely! While the app offers enhanced customization, Gravity can be used manually with its built-in controls.
Is the Lovense app secure?
Yes, the Lovense app prioritizes user privacy. All data is encrypted, and no personal information is stored.
How do I clean the Lovense Gravity?
Cleaning is a breeze. Use warm water and mild soap to clean the device after each use. Ensure it's thoroughly dried before storing.
What type of lubricant should I use with the Gravity?
It's recommended to use a water-based lubricant with the Gravity to ensure the silicone material remains in top condition.
Does the Lovense Gravity come with a warranty?
Yes, the Gravity comes with a one-year warranty, offering peace of mind for your investment.
Lovense Gravity Review Verdict and Rating
The Lovense Gravity Thrusting Vibrating Dildo stands out among other adult toys with its exceptional blend of luxury and innovation. Whether you're indulging in solo play, sharing intimate moments with a partner, or entertaining a webcam audience, the Gravity promises an unparalleled and exclusive experience.
Its thrusting and vibrating functions, complemented by the revolutionary Lovense app, guarantee a unique and personalized encounter that is hard to replicate. While its premium price point may deter some, the exceptional performance and luxurious design of the Lovense Gravity firmly establish its worth.
Among the many sex toys we've had the pleasure to review at Webcam Model Careers, the Lovense Gravity undoubtedly ranks among the best.
We have given it an impressive 5 stars!
So, if you're contemplating an upgrade to your collection or simply curious about what makes this toy so special, isn't it time to discover the buzz around the Lovense Gravity?
---
Enjoyed the Lovense Gravity review? Check out more Lovense reviews: