If you are planning to become a webcam model then you will likely want to set up your streaming and recording right away. However, you'll want to start things off properly with the right tools you'll need for success.
Aside from the essential camming equipment for webcam models, there is also the webcam software. On popular webcam model sites like Chaturbate, cam models can use the in-browser broadcaster. But that comes with its limitations. Using an external encoder software like OBS will give you greater control over the quality of your broadcasts.
If you don't have this essential piece of software, then we certainly recommend that you try it out. Webcam models should never be without this software because it can help to bring in extra revenue for your live shows and broadcasts.
In this article, we'll explain what OBS is and how it can help your adult webcam modeling career. Most importantly setting up OBS for Chaturbate live streaming.
What Are External Encoders?
The process of converting data from your camera into a stream that can be sent over the Internet and then decoded in your browser is called Encoding. There are many software and hardware encoders available that can be used to broadcast on camming platforms like Chaturbate. However, they must be capable of RTMP output.
RTMP stands for 'Real-Time Messaging Protocol.' It is part of the technology that makes live streaming possible today.
OBS is an external encoder that allows you to push a better quality stream to Chaturbate. It does so by granting you more control over the encoding settings for your stream.
HD streams up to 4k are supported through external encoding. The stream is then transcoded by Chaturbate into multiple quality levels allowing viewers on any connection to enjoy your stream.
What is OBS?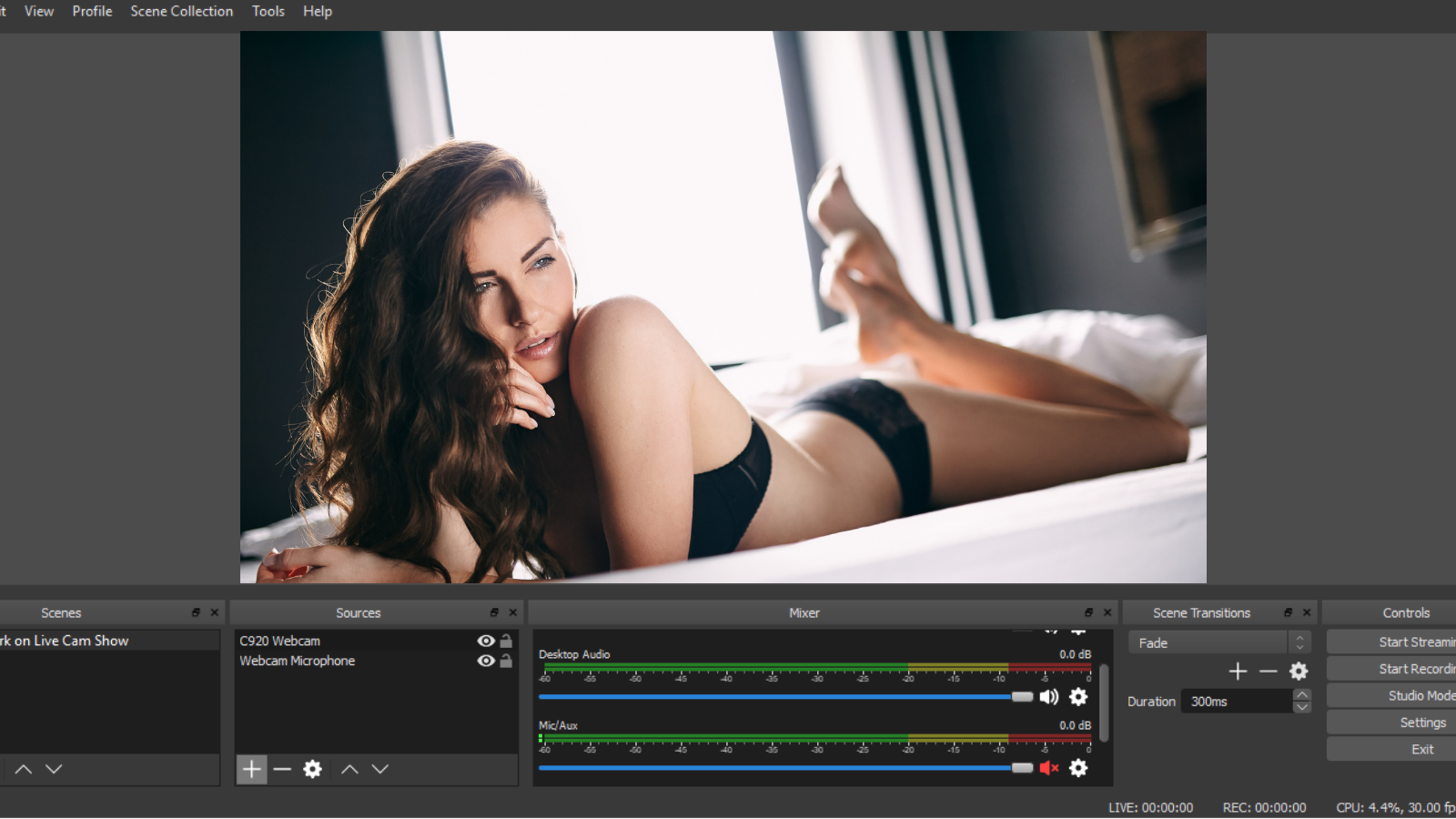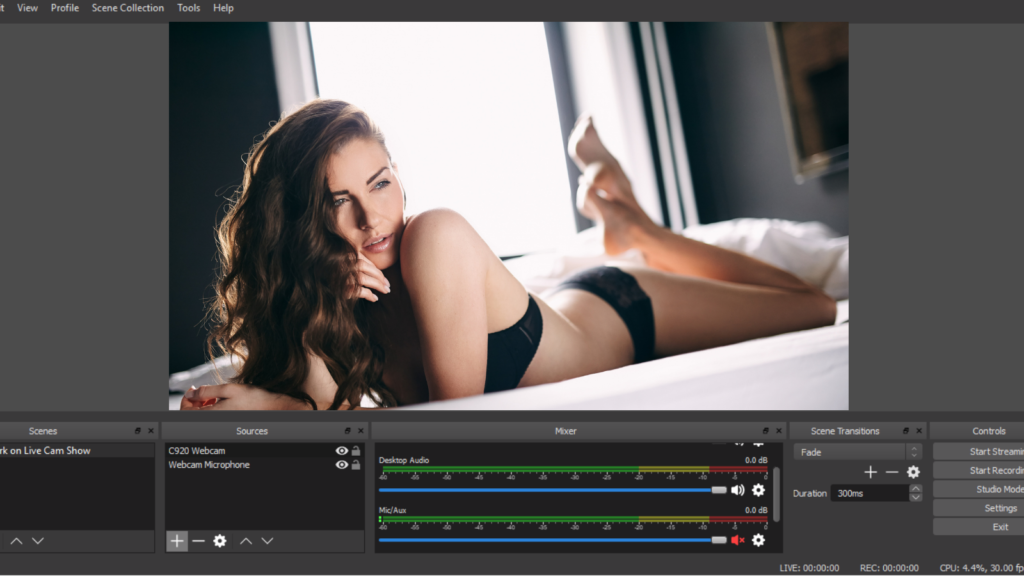 OBS stands for Open Broadcaster Software. It is a free open-source software that allows you to live stream on a variety of platforms. It is available for Windows, Mac, and Linux operating systems and works with all of the most popular adult webcamming platforms, as well as streaming services like Twitch, Mixer, DLive, and YouTube Live.
It's the perfect piece of software for anyone setting up their own webcam model business. Not only does it allow the users to stream to their followers in amazing HD or UHD quality, but it also has many features that are perfect for cam models that most sites don't provide.
The OBS broadcasting software is favored by many webcam models because it also allows you to display images (like watermarks), movies as well as live content on-screen. You can also record your streams which is very convenient for the resale of your explicit shows.
How do I install OBS Studio?
If you already have OBS downloaded to your computer, that's great! You can skip this part and move to the next section where we will explain how to set things up further. If you don't have OBS downloaded to your computer then the steps below will help you to do that.
Open your preferred browser, and visit the OBS Studio download page: https://obsproject.com/download
Select your 'Operating System' (Windows or Mac)
Click on 'Download Installer,' and not just 'Download' We recommend this to ensure that OBS is installed properly on your device and is the latest version, otherwise it won't function correctly as an encoder.
Double click on the installer file once it's downloaded in order to run it, then complete any instructions required by your operating system before proceeding with the installation.
If you require further help with completing any operating system instructions after clicking the downloaded file, please see:
How to Install OBS Streaming Software in Windows
How to Install OBS Streaming Software on a Mac
Note: The Windows release of OBS Studio supports Windows 8.1, 10, and 11. The macOS release of OBS Studio supports macOS 10.13 and newer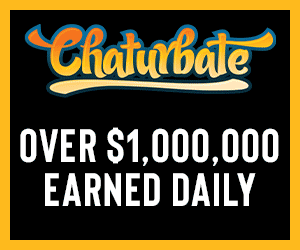 Steps for Setting Up OBS for Chaturbate
After downloading the OBS Studio software you are now ready to start setting up OBS for Chaturbate broadcasting. There are two main parts to this that we will be covering. Firstly, we will look at setting up the Authorized Chaturbate Stream Key. Secondly, we will guide you through configuring OBS Settings for your Chaturbate live streams.
Setting Up Authorized Chaturbate Stream Key
Follow these steps to set up your Authorized Stream Key for Chaturbate.
Go to the Broadcast Yourself tab (https://chaturbate.com/b/)
If you see the in-browser broadcaster page, click the 'Use External Encoder to Broadcast' link.
Click the 'View RTMP/OBS broadcast information and stream key'

Click 'Generate New Token' if you have not yet generated a token
Copy your broadcast token (the long string of letters and numbers in grey)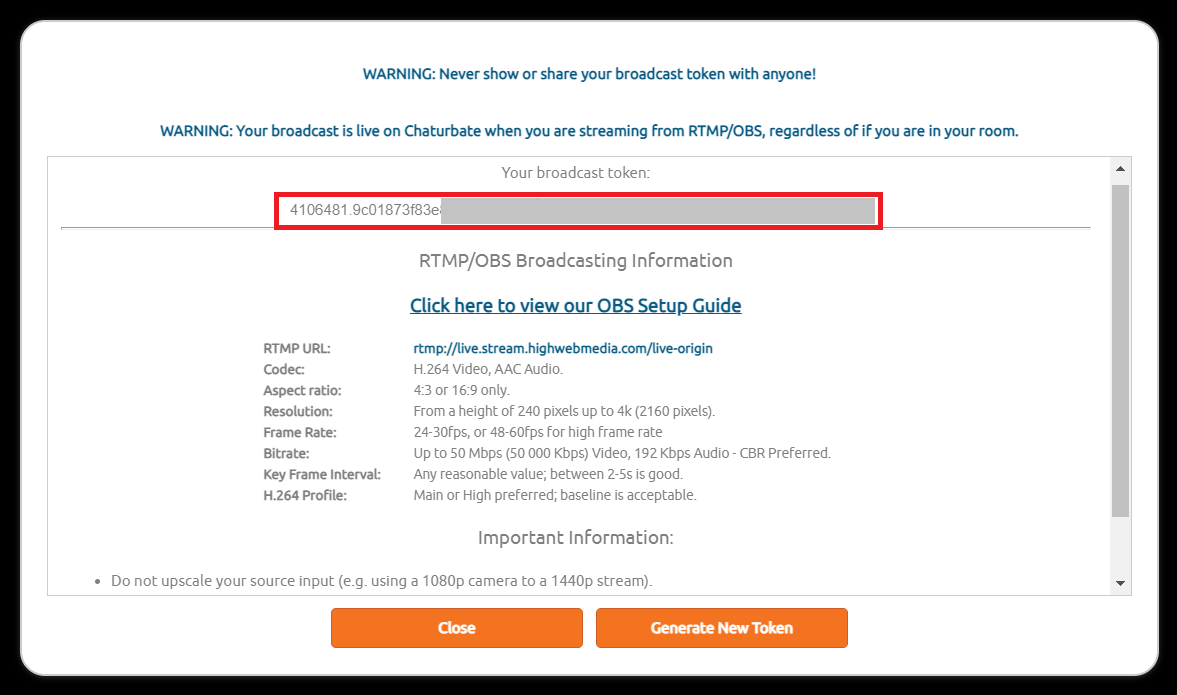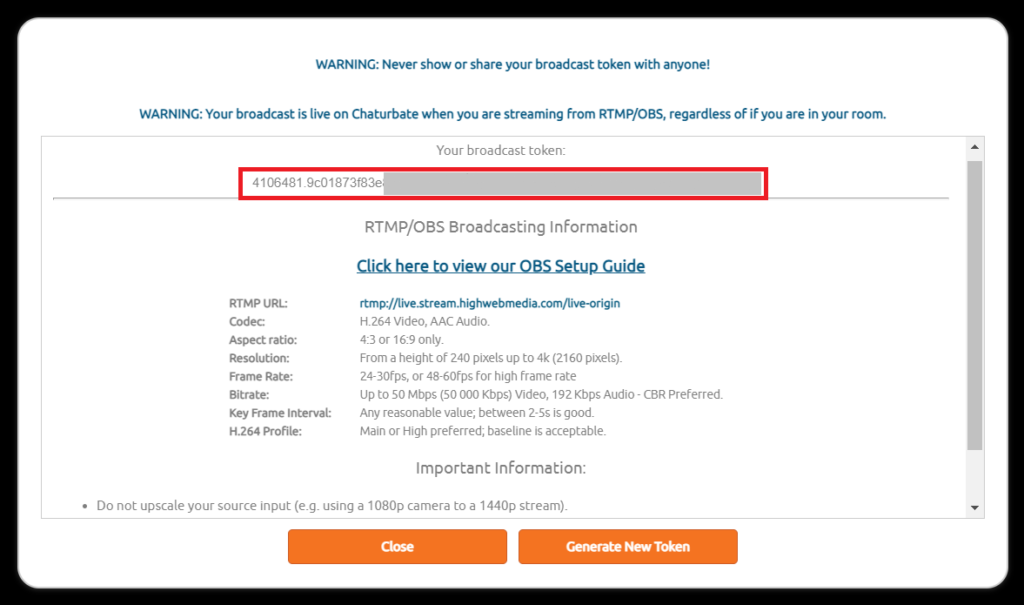 Configuring OBS Settings in Chaturbate
So you are halfway to setting up OBS for Chaturbate. Now we will look at the basic configurations. It's recommended to start with a resolution of 720p. As well as a bitrate of 3000 kbps. Then adjust your settings based on performance. Make sure you are not using a higher resolution than your camera. More information on selecting a resolution can be found below.
Stream Settings To Use
In OBS Studio select Settings > Stream
Select 'Show all services' to display Chaturbate in the 'Service' dropdown
Pick 'Chaturbate' from the service list
Choose server 'Default Global Auto Select – Recommended'
Enter the stream key that you copied from your Chaturbate broadcast page.
Basic Output Settings
Enter the following settings on the 'Output' tab:


Advanced Output Settings
Below you will find advanced settings that you can choose from. These settings can be configured in OBS Studio from the Output tab.
Enter the video bitrate appropriate for a resolution that your internet bandwidth is capable of.
Enter the audio bitrate.
Within 'Advanced Encoder Settings' the encoder preset defaults to 'Very fast.' However, this can be lowered if your CPU usage is too high. We recommend changing your resolution or bitrate before going any higher than the superfast setting.
It's recommended to use Quicksync over NVENC over Software (x264) if your computer supports them for Encoding. The first two will use your GPU instead of your computer's CPU.
| Resolution (WxH) | Video Bitrate | Audio Bitrate | FPS |
| --- | --- | --- | --- |
| 853×480 | 800 – 1200 kbps | 96 kbps | 24 – 30 |
| 1024×576 | 1200 – 3000 kbps | 96 kbps | 24 – 30 |
| 1280×720 | 3000 – 5000 kbps | 96 kbps | 24 – 30 |
| 1920×1080 | 5000 – 8000 kbps | 128 kbps | 24 – 30 |
| 2560×1440 | 8000 – 12000 kbps | 192 kbps | 24 – 30 |
| 3840×2160 | 12000 – 20000 kbps | 192 kbps | 24 – 30 |
Settings for Video
Base Resolution: 1280×720
Output Resolution: 1280×720


Resolution Requirements
The examples we have used in this article are based on 1280×720 resolution. Below you will find all supported resolutions and the minimum bandwidth required for each one. Be sure to pick a resolution that is no larger than what your camera supports. Equally, your internet must be able to handle the upload speed.
Check your upload bandwidth here: http://chaturbate.speedtestcustom.com/.
| Resolution | Min Upload Bandwidth Required |
| --- | --- |
| 853×480 | 2mbps |
| 1280×720 | 5mbps |
| 1920×1080 | 10mbps |
| 2560×1440 | 16mbps |
| 3840×2160 (4K) | 30mbps |
Selecting Your Camera
Go to the Sources section in the OBS Studio
To add a new source click the plus icon.
Select 'Video Capture Device' to select your webcam.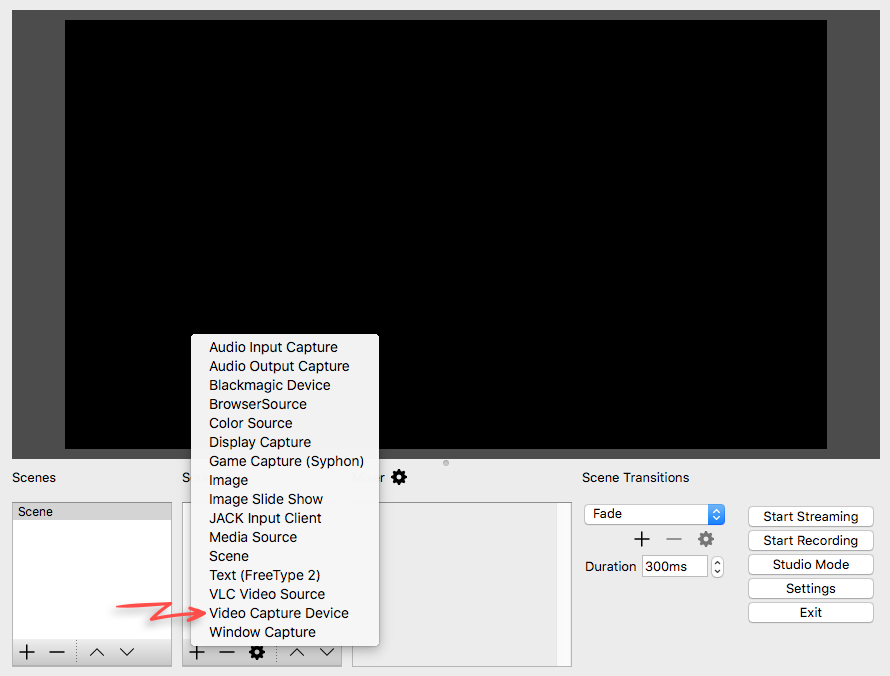 Pick your camera from the devices list.
Select the resolution to match your base resolution previously set if this is not supported lower your base resolution.
Enlarge the camera to fill the base canvas.
Broadcasting On Chaturbate With OBS
As soon as you are ready to begin your first live show to your viewers, click the 'Start Streaming' button. It is important to realize that even if you are not you are logged into Chaturbate, your room will be online through OBS. So make sure you are ready to be seen by your audience.
You can see the status of your live stream from the player window. When your room is online, you will see 'Your OBS stream is currently public.' Additionally, this will change to 'Group', 'Private', and 'Hidden' based on the type of show you are performing.
For more information on different Chaturbate shows see: Types of Cam Shows on Chaturbate – Understanding the Difference
When you are ready to end your online cam show, you must click 'Stop Streaming' in OBS. This is to make sure that your broadcast is stopped correctly. Just closing your Chaturbate browser or logging out, will not end it.
Key Tips To Remember
If you are using a webcam that is only supporting 1080p, do not upscale your source input to stream higher, for example at 1440p.
Be sure to use the minimum video bitrate specified in the table above for a given resolution.
When including music, movies, video games, etc, in your stream, make sure it is copyrighted and that you have permission from the holders. Unless it is your own copyrighted content.
Enjoy Streaming on Chaturbate With OBS
We hope you found this guide on Setting up OBS for Chaturbate to be informative and helpful. If you are serious about adult webcam modeling then this software would be a great choice for you. Not only will it help you increase your income, but it will also provide better enjoyment to you and your audience. So make sure to add it to your camming toolbox and get on course to supply your viewers with excellent quality webcam modeling shows.
---
Check out more from Chaturbate Careers:
Become a Chaturbate Model Step by Step Guide
Essential Camming Equipment For Webcam Models