Whether you are new to camming on Chaturbate or a seasoned broadcaster, you've probably heard of, or want to know more about DMCA.

Look no further, as we delve into everything there is to know about DMCA and protecting your content on Chaturbate and other sites online.
What Is DMCA And What Does It Mean?
DMCA means Digital Millennium Copyright Act. Which is a United States copyright law created in 1998 to address the relationship between copyright and the internet.

The law criminalizes the production and circulation of; content, technology, devices, or services intended to bypass measures that control access to copyrighted works or digital rights management (DRM).

It also relates to a defined process of removing content from the internet. The process is commonly known as a DMCA Takedown.
What is a DMCA Takedown?
A DMCA Takedown is when content is removed from a website or online platform at the request of the content owner. It is a well-established and widely accepted practice followed by internet service providers and website owners everywhere.
As a content owner, you have the right to request a takedown notice, if your property is found online without your permission. Which can be filed against any website owner or Online Service Provider.
Simply put, if the content is yours or you are the subject in a photo/video, it's sufficient grounds to process a takedown notice. Therefore, requesting for the content to be removed or "Taken Down".

Can My Live Webcam Shows Be Recorded Without My Permission?
Unfortunately, the true answer is yes, they can. With the right software, it is possible for anyone to record your live stream. Or, simply create a recording of your show straight from their mobile device.
Similarly, with any photographic content that you have on your Chaturbate Bio. With a simple right-click, your photos can easily be copied too!
However, do not let internet criminals put you off making money as a webcam model. There is support out there. Moreover, ways to prevent your content from being copyrighted.
How Can I Prevent Pirates from Stealing My Content on Chaturbate?
Of course, being able to watch webcam shows and content for free is what makes Chaturbate great. However, it also makes it easy for internet pirates to exploit.
Having your content stolen or used without your consent is illegal – Fact! Furthermore, it's certainly not a nice experience for anyone to have to go through. Besides, there are measures you can take to protect yourself and your content online.
Below are a few methods that you can use to deter people from recording your broadcasts, or stealing your photos.
Use Chaturbate Apps
Many cam models use Chaturbate apps which can hide your broadcast from "anonymous users" (viewers with no tokens). Apps like this can help significantly to decrease the number of visitors that could be there to record your shows.
Add A Watermark
Additionally, you can add a watermark to your live stream using a cam filtering application like Open Broadcasting Software (OBS). Other alternatives are available. Have a read of this article if you are interested in Setting Up OBS for Chaturbate Live Streaming.
Likewise, adding a watermark to your photos can deter internet pirates from downloading and posting them to other websites. For example, you could add a copyright mark, DMCA Badge, username, or logo (if you have one).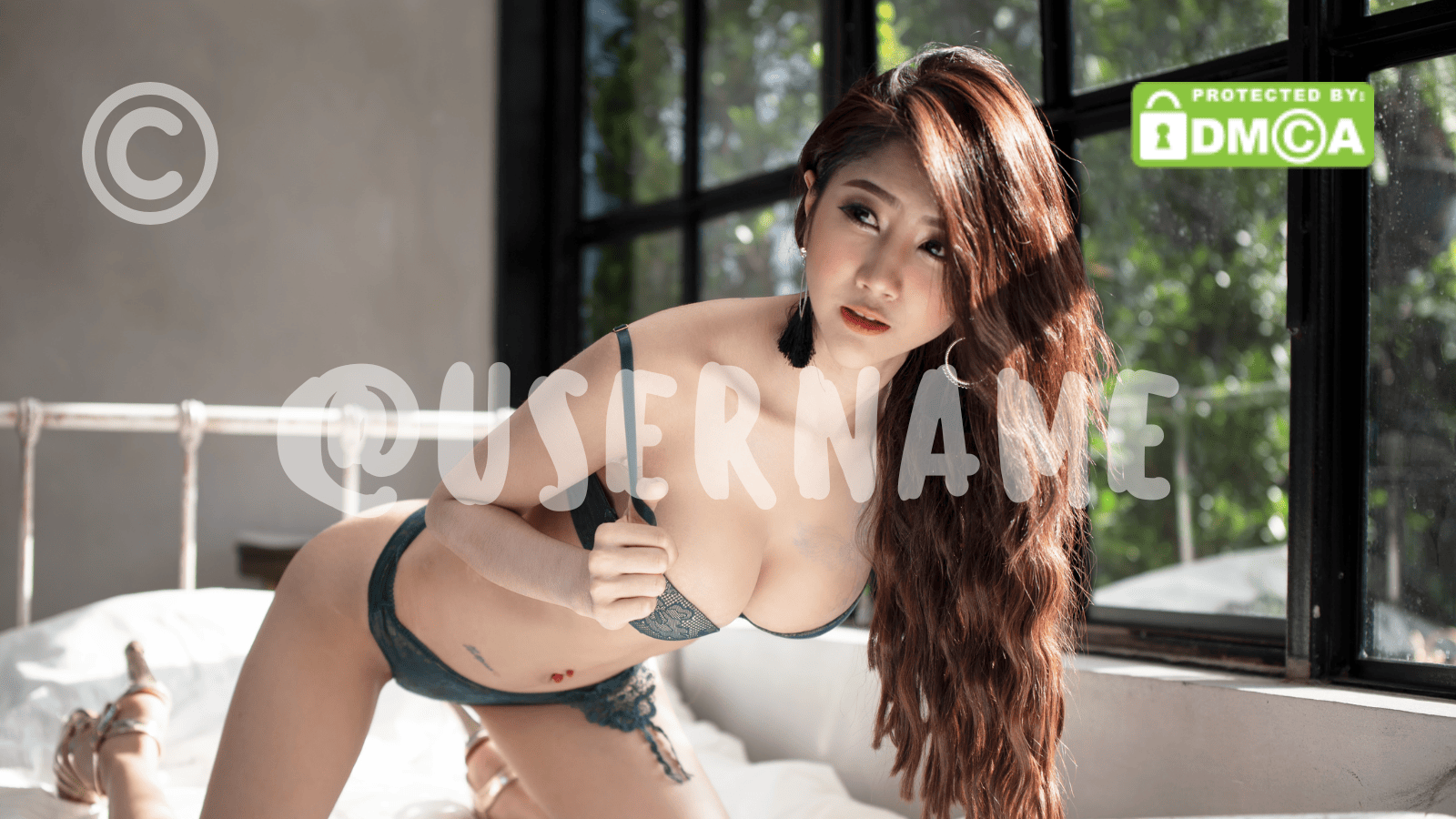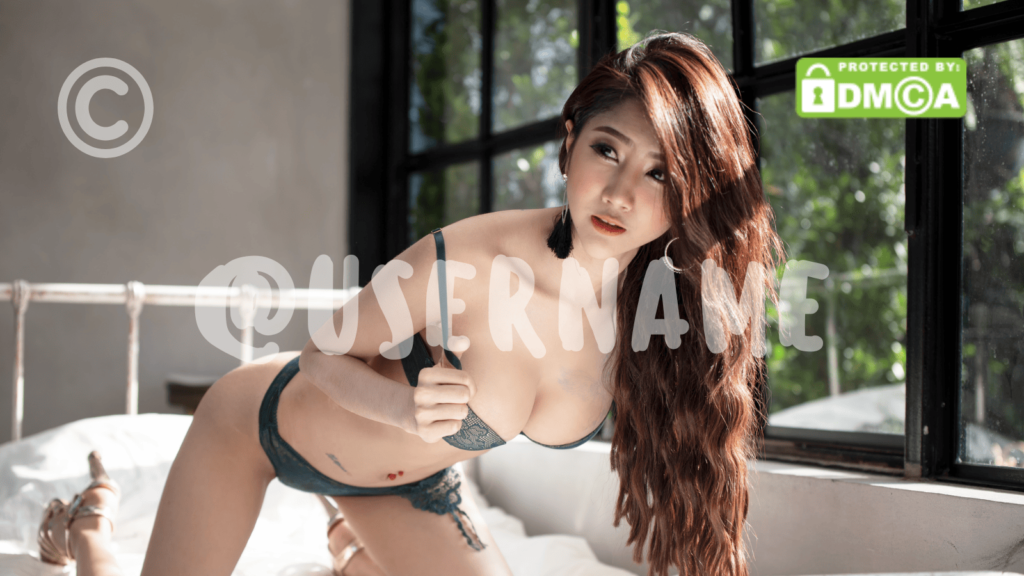 How Do I Add a DMCA Badge To My Chaturbate Live Stream?
If you are using OBS to stream your shows to your followers, then you'll be able to add a DMCA logo over your broadcast.
Firstly, you will need to visit https://www.dmca.com/badges.aspx?r=m to download a DMCA logo. Secondly, follow these steps;
Under OBS sources, click +.
Then "Select Image"
Under "Create new" enter "DMCA" and click OK.
On the following screen, you will be prompted to search for the image.
Search your files for the DMCA logo you downloaded.
The "Click OK".
You'll then be taken back to your main OBS broadcast window. The badge will be highlighted by a red box over your stream window. Therefore, allowing you to drag and place it wherever you would like it to appear on your stream.
What Can I Do If My Content Is Being Used on Other Sites?
Copyright violations are nothing out of the ordinary these days. With more people making content online, criminals seek to take advantage of this and prosper from your material.
Having your content posted on other websites without your consent is a major violation of your privacy. If you find that your content is being used on another platform, then there are steps you can take to have it removed.
Chaturbate has got your back as it offers a free content takedown notice service. The support team will assist you with sending any removal requests.
How Do I Submit a Chaturbate DMCA Takedown Request?
Submitting a DMCA Takedown Request via Chaturbate is surprisingly easy!
To request a takedown notice, simply click Chaturbate DMCA Takedown Request and follow the steps below.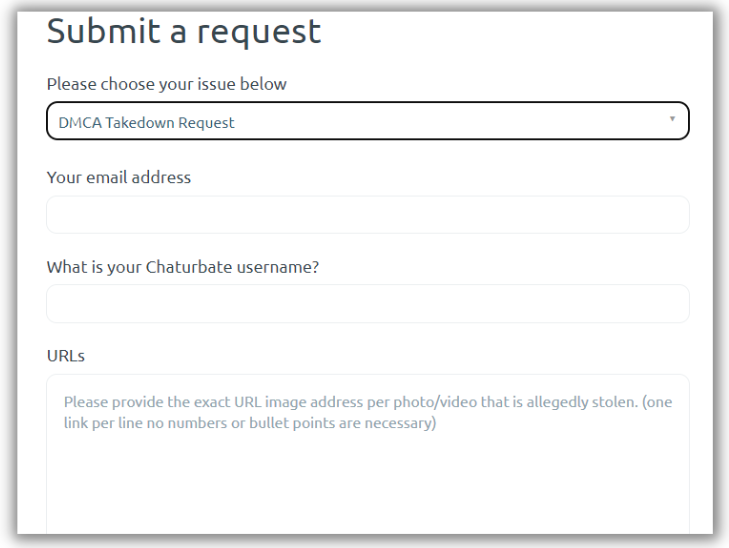 From the dropdown menu select the option "DMCA Takedown Request"
Enter your email address and Chaturbate username.
In the "URLs Section", list all of the URL links for any content you want to have removed.
Note: Make sure that you provide the genuine URL that displays your video or photo. Please don't just provide the URL to a search page.
To get the genuine URL for any videos you'd like to report:
Right-click on the video.
Click "Copy video URL"
Paste the video URL onto your list.
To get a genuine URL for any photos you want to report:
Right-click on the photo.
Copy and paste the "Image address" (Not the Image Link).
Paste the 'Image address' onto your list.
If you agree to the declaration, "click the checkbox"
In the "Signature Box" type your full name (to confirm the request details)
Include any files or attachments that might be relevant to your case.
What Happens After You Send A DMCA Notice?
Once you send the DMCA Takedown Notice, the website owner or service provider will have to remove the infringing material.
The time frame for content removal can vary depending on several factors. Although, the average takedown time frame is within 10 business days, more often stolen copyrighted content is removed within 24-48 hours.
Website owners really don't like to get penalized by Google as it will hurt their site rankings. Furthermore, face being sued for up to $150,000 and/or receive potential jail time.
Note: There are exceptions to the time frame, where it could take longer or a takedown may be unsuccessful. Generally, if the infringing site is in a country that doesn't recognize Western intellectual property law.
Alternative Organisations That Can Help Copyright Infringements
There are several other organizations and individuals that can assist you with any copyright infringement claims that you want to pursue. Ideal if you have a busy schedule or do not wish to complete the takedown process yourself.
Please bear in mind that these options will incur a fee or subscription charge. Below are some options.
Find a Good Copyright Lawyer
For any reason you're not able to negotiate a solution with the infringer, you may need to hire a lawyer. Copyright litigation is a specialized area of law and is usually practiced exclusively.
Undoubtedly, you will want someone with experience in copyright litigation or infringement on your side. So keep this in mind when finding the right attorney.
DMCA.com One-stop Shop for All Internet Copyright
DMCA.com provides its customers with a variety of different tools to help identify and protect against any theft that has occurred and prevent it from reoccurring down the line.
Their packages include:
Monitoring:
$10/month – Track the internet exposure of your content – images, and text
Protection Pro:
$10/month or $100/year – Protect your website contents: Text, Code, Images & Graphics
Takedowns:
$199 for Full Service – Get your stolen content removed from the internet or 100% Refund!
Get Specialist Cam Model Protection
Cam Model Protection is a company offering Anti-Piracy and Privacy Protection services to thousands of webcam models and adult content creators across the world.
They have subscription packages ranging from $169 per month (Pro) to $469 per month (Superstar VIP). Each varies slightly in the services provided.
If you are looking for all-around protection for your live performances, and pictures, along with removing illegal downloads, videos, and search engine results. In that case, these guys are your go-to solution!
Conclusion of DMCA Support for Chaturbate Models
We certainly hope that anyone reading this never has their content stolen or used without the right consent. However, if it does happen it must be remembered that there are options available to you.
While Chaturbate can support you with your DMCA takedown requests, they are not DMCA service providers. Although, have been very successful in taking down recorded Chaturbate live shows and other stolen content.
When choosing a DMCA service provider, be sure that they have experience in dealing with adult content. This will ensure that your claims get the correct attention and help you avoid reputation damage.
Finally, it is important to realize that although this is something of an inconvenience, it's an important step towards protecting your rights, maintaining your reputation, and growing your camming career.
Also, check out related posts: