So you've decided to start an Amazon wishlist on your Chaturbate profile. You've seen all of your favorite broadcasters doing it, and now you want to take advantage of it as well. But how do you add your wishlist to your Chaturbate profile? Read on for a step-by-step guide that will have you up and running in no time!
What is an Amazon Wishlist?
For those that do not know, Amazon wishlists are an online tool that allows you to keep track of items you would like to purchase in the future. It is basically a list of items you want to buy from Amazon. You can include links to specific items or simply a description of what it is you want. When someone buys an item on your wishlist, you'll receive an email notification letting you know what item was purchased for you.
The Benefits of Having an Amazon Wishlist on Your Chaturbate Bio
Creating an Amazon wishlist can be a great way to supplement your Chaturbate income with more than just tips. They are ideal for creating collections of items you need or want to use for your webcam performances. For example, sex toys, underwear, lighting equipment, or even a new webcam. Your viewers and supporters will want to see you happy and therefore want to treat you to wonderful gifts to show their appreciation.
How to Create an Amazon Wishlist for Chaturbate?
Before you can start your wish list for Chaturbate, you must first have an account with Amazon. Once you've signed up (or if you already have an account), follow these simple steps below to create your Amazon Wishlist
Go to Amazon. Visit http://www.amazon.com from your preferred web browser.
Visit the sign-in page. Near the top-right corner of the page are some quick access links. Hover over the "Hello. Sign in Your Account" menu, and click on the yellow "Sign in" button. You will be directed to the sign-in page.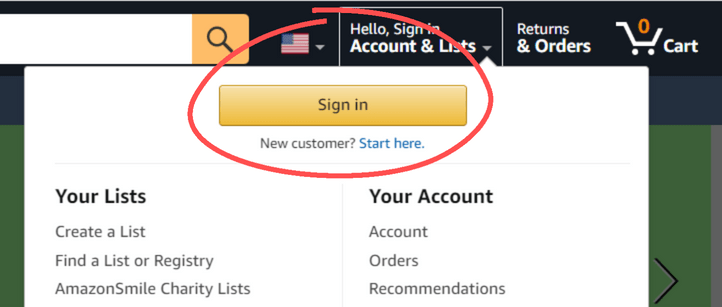 Sign in. To begin, enter your Amazon account username and password and click the yellow "Sign in" button. You will be logged in and returned to Amazon's home page.
Create a wish list. The Wish List quick access link can be found in the upper-right corner of any Amazon page. Hover over the "Create List" menu and select the "Create a New List" submenu.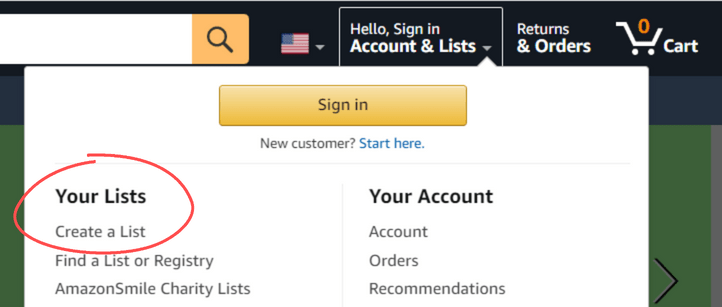 Name the list. A little window named "Create another Wish List" will pop up. Select the recipient of the items on the wish list from the drop-down menu under "List is for." Then, under "List Name," enter the name of the wish list.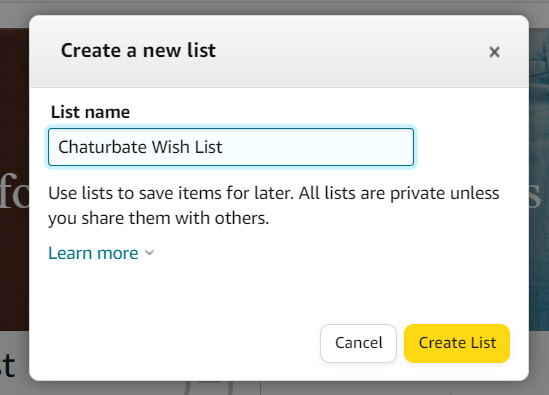 Privacy settings. All lists remain private unless shared with others. Private lists will not be searchable or accessible to anyone else, other than you.
Adding Items to Your Amazon Wish List
You could say that adding items to your Amazon wish list for Chaturbate is as easy as one-two-three! Well, it really is, just follow the 3 steps below:
Look for an item. Look for the item you want to add to your wish list. Use the Search box at the top of every Amazon page.
View the item. Check the item's page to ensure that it is the one you want. When you click on an item in the search results, you will be sent to its page. Review the item's specifics.
Add to the Wish List. Once you've chosen an item, click the "Add to List" button on the right side of the page. It's directly underneath the "Add to Cart" button. The item will be added to the wish list you have selected.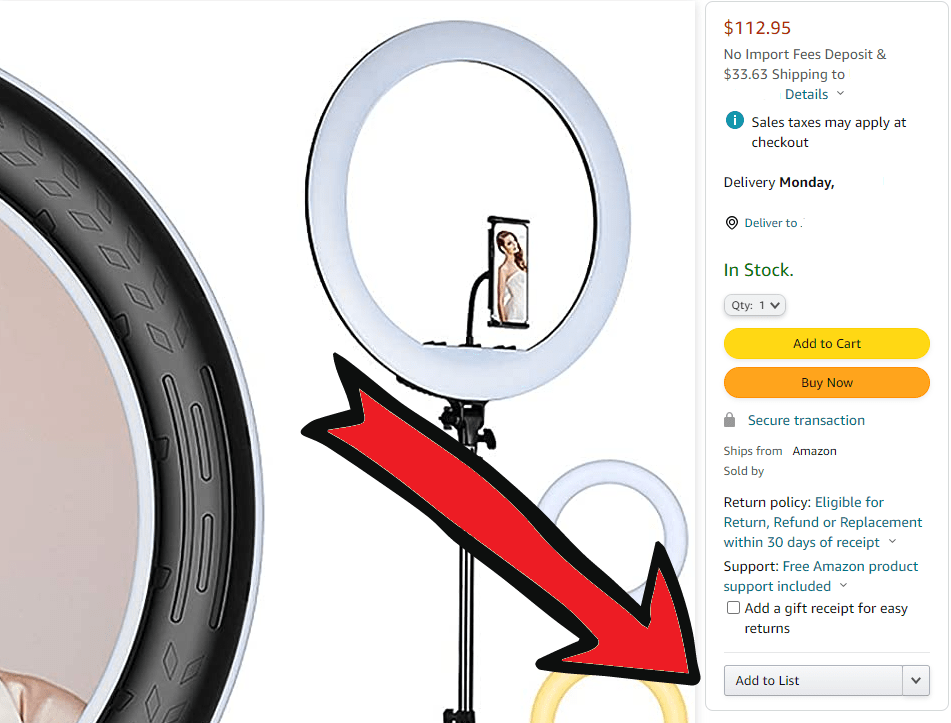 Note: Repeat Steps 1–3 if you have more things to add.
How to Add Your Wish List to Chaturbate Profile?
Many Chaturbate models have Amazon wishlists for things like lingerie, sex toys, webcamming equipment, and other goodies for viewers to purchase. All you need to do is sign in to your Amazon account and follow these easy steps to add an Amazon Wishlist to your Chaturbate profile.
Hover over "Accounts & Lists" near the top right of the page.
From "Your Lists" select the list you want to share.
Once the specified list has opened, click on "Send list to others" on the right-hand side of the page.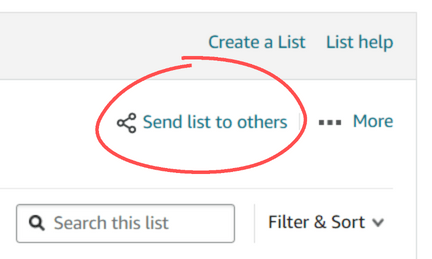 The "Invite others to your list" popup box will appear, select "View Only."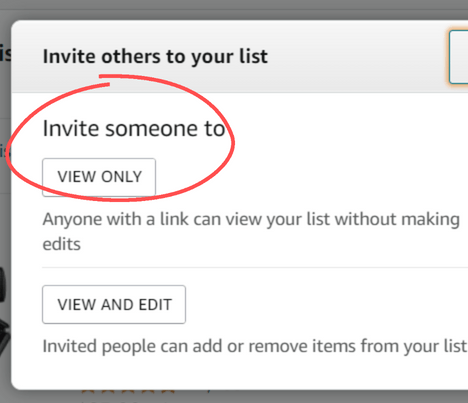 Grab your Wishlist link by clicking on "Copy Link."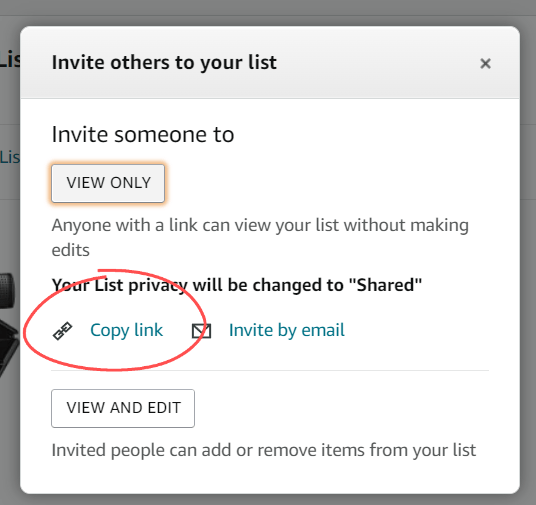 Go to the "My Bio" tab and click "Edit Your Bio" at the top of the page.
In the "Wish Lists" section, Paste your Amazon Wishlist URL link into the field.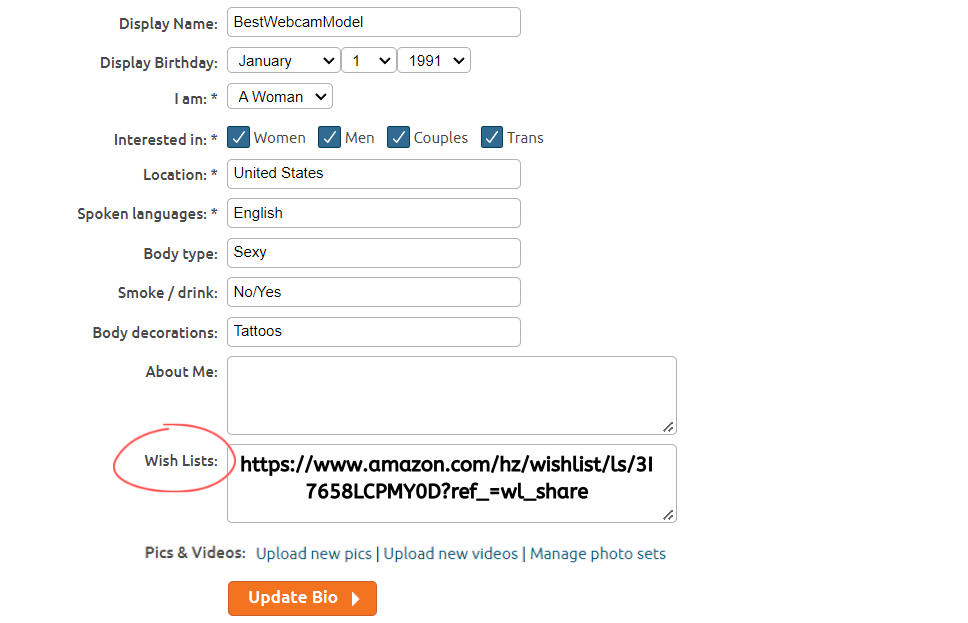 Click the orange "Update Bio" button to save your changes.
Safety Tips to Consider When Adding Amazon Wishlist to Your Profile
It's essential to be safe when creating and adding your wishlist to your profile on Chaturbate. Here are some things you should keep in mind if you plan on adding an Amazon wishlist to your profile. Since nothing beats common sense, be smart about how and where you add a link to your wishlist when using Chaturbate.
If you have a lot of personal items that might not need to be shared with other users, consider using a new amazon account specifically for Chaturbate. Furthermore, you may want to think about using a PO Box to protect your privacy. Although when someone buys something, the only information they will see is your name and city. It is best not to share any personal details, even if only a few. Someone could potentially piece them together to find out your true identity.
Summary: Adding Amazon Wish Lists to Chaturbate Bio
Chaturbate Amazon wishlists are an interesting feature. It's a way for models to entice members of Chaturbate to buy them gifts from their favorite online stores.
While there are many accounts on Chaturbate that do not have an associated wish list, most of them do. It is very simple to add a wish list to your profile and it only takes a few minutes. It's as easy as adding your list's URL into the appropriate box on your profile page and updating your Privacy Settings so that you can share your list with the public.
Once you have your wish list created you can start to see what other members have added or removed from their wish lists, so you can get some ideas for items that might be good to add to yours.
If you enjoyed reading our guide on how to add an Amazon Wish List to your Chaturbate profile, we'd love it if you took a moment and let us know in a comment below!